'Dubai will need many more residential units in coming years'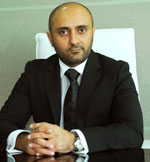 A wider economic upturn and rapid population growth will lead to a shortage of residential units in Dubai, believes a market participant.
"I see a serious shortage… the government is diversifying into tourism-related projects. Schools, universities, theme parks and shopping centres are coming up and so many people will be employed and they all will require accommodation," Samir Munshi, Managing Director, Orion Holdings, told Emirates 24/7.
"The fact of the situation is that today if a company requires 100 apartments for their staff, it is near to impossible to locate an empty building in Dubai."
Hence, Munshi asserts residential property prices and rents will continue to rise in the coming years as demand will exceed supply.
Property price jumped by over 20 per cent in 2013 and are expected to rise by another 10 to 15 per cent this year, according to Knight Frank, a UK-based property consultancy. But in an interview to Bloomberg, Director-General of Dubai Land Department Sultan Butti bin Mejren talked about a 35 to 40 per cent increases in prices.
A Citibank estimate last year pointed out that the current stock of housing exceeds demand by some 50,000 units. The study then had not taken into view the over 277,000 jobs that will be created in Dubai due to Expo 2020 of which many will be white-collar workers, who will bring their families to the emirate. Therefore, demand for houses will pick up.
Land prices to rise
On the other hand, Munshi says land is becoming costlier and prices have jumped by 15 per cent post Expo 2020 announcement. He expects an increase of 3 to 5 per cent every month in prices.
"We have seen massive increase in land prices particularly in Dubai Silicon Oasis and Jumeirah Village Circle. We were fortunate to have bought our land when the prices were low and now we are set to launch new residential projects."
The company real estate subsidiary, Orion Developments Llc, will be launching a series of projects in the coming years in the Dubai Silicon Oasis, International City phase 3 and Jumeirah Village Circle.
"Though we are currently concentrating on liquid areas of Dubai, we are looking at options of acquiring land in Dubai World Central and Waterfront," he reveals.
Focus on mid-end market
It's the mid-end market segment that Munshi will be focusing on. He isn't looking at competing with players such as Emaar Properties, Nakheel and Damac Properties who dominate the top-end market.
"You have these big developers targeting the top-end of the market, but there is literally nobody in the mid-end segment… and that's what we are focusing on."
The company will not sell off plan, but will start sales only when construction reaches 30 per cent on a project. Besides, to attract investors, it plans to offer a 30-70 per cent payment scheme to buyers.
"A lot of the working class populations, as far as properties are concerned, haven't bought anything in Dubai for sometime now. They can put down 30 per cent and once the building is complete get a bank loan… banks are quite open to financing properties that are complete," he states.
Pay contractors on time
As property investors in Dubai defaulted following the global financial crisis, developers started facing cash flow issues and stopped payments to their contractors. This led to stoppage of work and legal battles, thus delaying the project.
But to ensure their projects are completed on time, Orion is implementing a new strategy of making higher down payment to contractors.
"What we have understood that if you don't pay your contractors they slowdown. But what we have done is that instead of 10 per cent down payment, we pay 20 per cent to our contractors… this ensures that the work progress swiftly," Munshi reveals.
[Homepage Image Courtesy: Shutterstock]
Follow Emirates 24|7 on Google News.