Dubai World Record: Burj Khalifa's eagle take-off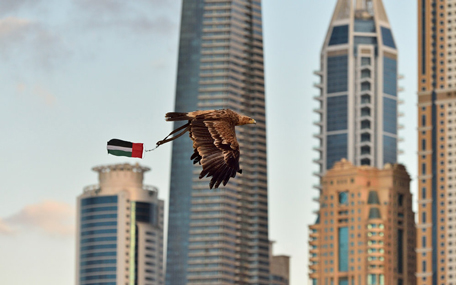 Dubai is taking flight to land yet another Guinness World Record, on the wings of an eagle no less.

On March 14, Freedom Conservation will attempt to set a new world record by flying an eagle, equipped with a camera, from the top of the world's tallest building, the Burj Khalifa.


The organisers of the world attempt state they will strap on a Sony ActionCam Mini camera onto the bird of prey, which will go on to record a bird's eye perspective of the landscape, capturing footage that will be broadcasted to the world.

If achieved, the white-tailed eagle's flight from the top of Burj Khalifa, which stands at a height of 829.8 metres or 2,722 feet, will represent a world first as the highest recorded bird flight from a man-made structure.


The charity Freedom works in collaboration with a leading conservation initiative, SOS - Save our Species and United Nations Educational Scientific and Cultural Organisation (Unesco) to raise awareness of the plight of endangered animals, many of which are recorded on the IUCN Red List of Endangered species.


The eagle attempting the flight, named Darshan, is an example of a threatened species, which has been successfully rehabilitated through global conservation programmes, and will act as an ambassador for endangered animals all over the world.

The eagle, once on the Red List of endangered species, has been saved from extinction.


Freedom's eagles have flown from iconic landmarks across Europe, including the Eiffel Tower in Paris (301 m) and St. Paul's Cathedral in London.

Trainer and falconer Jaques-Oliver Travers is also referred to as 'The man who teaches eagles to fly', who is known to pioneer techniques to increase the reintroduction rate of endangered eagles to the wild, that include paragliding, skiing and kayaking to teach vital survival skills.

Follow Emirates 24|7 on Google News.