#DubaiCarFreeDay: Top Dubai officials ride the Metro [video]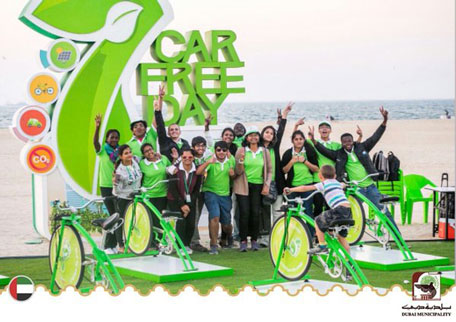 Today marks Dubai Municipality's seventh car-free day, with many residents ditching their cars in favour of the Dubai Metro, bicycles or buses.
Some car companies and restaurants are rewarding their customers for giving their cars a day-off.
HE Eng. Hussain Lootah while riding the metro to reach his office in support of the #DubaiCarFreeDay initiative pic.twitter.com/zML91mN0FA

— بلدية دبي (@DMunicipality) February 21, 2016
"Share your Uber ride tomorrow for #DubaiCarFreeDay, and we'll perk your account Dh30 for every ride you split fare," read the official twitter handle of taxi company Uber.
Sheraton Dubai Creek Hotel and Towers is offering one-hour free bicycle rentals today to diners across all food and beverage outlets within the hotel.
"A perfect way to see the sights of the old town including the Souks and Bastakiya quarter, while contributing to the reduced CO2 emissions and substantial environmental benefits associated with this leading Dubai initiative," read the hotel statement.
#يوم_بلا_مركبات #DubaiCarFreeDay https://t.co/aYeED3GCo1 pic.twitter.com/NdZ7Tw5kWi

— بلدية دبي (@DMunicipality) February 21, 2016
Majid Al Futtaim malls posted a video on their social media platforms encouraging their shoppers to use the Dubai Metro today.
Many residents have been actively documenting their 'green' ride to work today. "Doing my bit for Dubai car-free day and taking Dubai Metro to work," wrote a resident.
The civic body is hoping that 1,000 organisations - government and private entities – will take part in the initiative today.
100 companies in Jafza to go car-free
Jebel Ali Free Zone (Jafza), the flagship free zone business of Dubai, is adopting the car-free day on February 24. This is in line with Dubai Municipality's initiative to create awareness on fuel conservation and using public transport to reduce carbon footprint.
Jafza is supported by 100 companies and government entities based in the free zone with the aim to highlight the critical concern of global warming. Jafza, along with various knowledge-based activities, is also organising green exhibition where Jafza customers will showcase their initiatives and products.
Follow Emirates 24|7 on Google News.