Dust storm brewing in Dubai; Fog, rain forecast for rest of UAE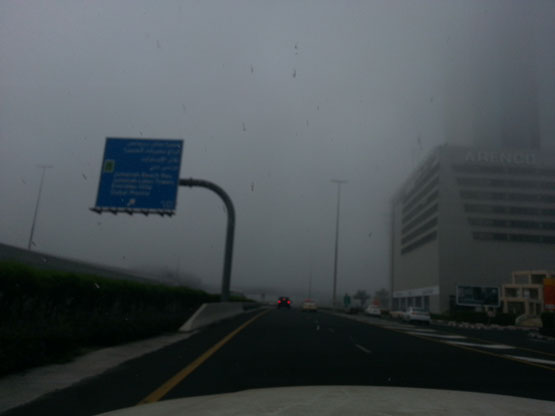 Latest: There is not so much fog as there is strong wind blowing dust and sand across the UAE, especially in Dubai this morning.
Heavy winds and sand/dust were billowing around Al Khail Road and leading into Dubai's Safa Park and Jumeirah areas as early as 5am, according to readers.
The National Center for Meteorology and Seismology (NCMS) this morning also warned against fresh winds and rough seas over the Arabian Gulf.

The NCMS has called on motorists to exercise caution, reduce speed and keep enough distance between vehicles due to low visibility caused by aggravated sand and dust.
In a statement, it warned of cumulus clouds accompanied by rains and strong winds in some of the eastern regions of the State.
The highest temperature recorded on Tuesday in the UAE was 43.4°C in Saih Al Salem at 3pm. While the lowest temperature recorded on Wednesday morning was 21.1°C in Jais Mountain at 3.15am.
NCMS forecasted that the relative humidity will increase during night and early morning over some of inland and coastal areas with probability of fog formation over far western areas.

Bikers told to be cautious during foggy weather
Motorcycles cannot be seen by motorists during the fog due to their small size (Supplied)
The Traffic and Patrols Directorate at the Directorate General of Central Operations at the Abu Dhabi Police called upon bikers to exercise caution while driving in conditions of fog or low visibility to avoid accidents.
The Directorate also urged bikers to park on the outside of the road, away from traffic if the fog becomes too dense and it is not possible to continue driving.
Lt. Colonel Ahmed Al Zeyoudi, Chief of Major Accidents Section at the Traffic and Patrols Directorate of Abu Dhabi Police, noted that riding motorcycles in such weather conditions is a dangerous practice, because they cannot be seen by motorists during the fog, due to their small size.
Lt. Colonel Al Zeyoudi urged companies and stores that provide home delivery services to ensure that their bikers adhere to safety procedures to prevent injuries resulting from accidents, and to wear protective clothing to mitigate injury and enhance their protection.
Heavy vehicles to be prevented from travelling during fog
It is noteworthy that the Traffic and Patrols Directorate at Abu Dhabi Police is implementing a number of precautionary measures during fog and low visibility conditions.
These measures include preventing trucks and heavy vehicles from travelling on the road in foggy conditions and forcing them to park off the road until the fog clears.
The Directorate is also implementing an emergency plan during foggy conditions in collaboration with the departments of civil defense, ambulance and rescue services. It includes controlling the flow of traffic on site; promptly transferring the injured to hospitals; clearing damaged vehicles off the road; and diverting traffic to other lanes in case of traffic accidents.
Follow Emirates 24|7 on Google News.