Eida issues 179,543 ID cards via Urgent Service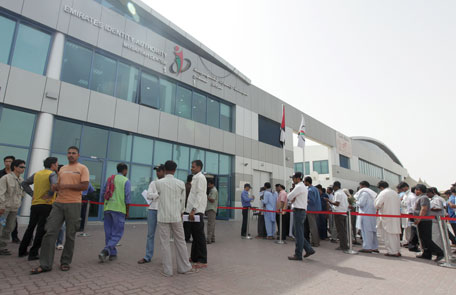 The Emirates Identity Authority issued 179,543 identity cards via its 'Urgent Service' during 2014. These cards were issued in 11 of the Authority's services centers spread across the country.
Statistical data revealed that while the number of cards issued via the urgent service in the first and second quarter of last year stood at 55,287 and 49,715 respectively, the third and fourth quarters saw a decline in the number, with 36,520 and 38,021 cards having been issued.

The Al Wahda Customer Services Centre of the Emirates ID had the largest number of transactions at 36,793, followed by Al Rashidiya in Dubai with 30,573, Sharjah with 25,858, Al Barsha in Dubai with 22,149, Al Ain with 17,685, Al Karamah with 17,230 and Ajman with 13,163.
The number of cards issued via the urgent service in Al Fujairah, Umm Al Quwain, Ras Al Khaimah and Madinat Zayed were 16,047.

Naser Al Abdouli, Director of Services Centers Support Division, said the provision of urgent service allowed UAE Nationals and GCC Citizens officially residing in the country to apply for and receive their identity cards within 24 hours during the work week for a fee of Dh150 in addition to the regular fee of Dh100 for five years.
"For UAE nationals, they have the option of choosing a validity of 10 years for their cards," he explained.

"As for the expatriates, they are entitled to the urgent service only in case of replacement of their identity cards in view of the fact that issuance and renewal of identity cards for them is linked to residency procedures.
While the fee for urgent service remained the same for the expatriate residents, the regular fee for them is Dh100 for each year, in addition to Dh40 and Dh30 as service fee and typing fee for all categories," Al Abdouli elaborated.

Al Abdouli pointed out that the issuance of identity cards via the normal procedures took one week from the day of application for UAE and GCC nationals.
"The time frame is the same for expatriates, but from the day of the issuance of their residency if all the documentation is in order.
The urgent service does not require the customers to go to a typing office; they need to approach one of the customer services centers without appointment carrying the necessary documents," he added.
Follow Emirates 24|7 on Google News.