Eight reportedly hurt in laundry blast in Dubai's Meena Bazaar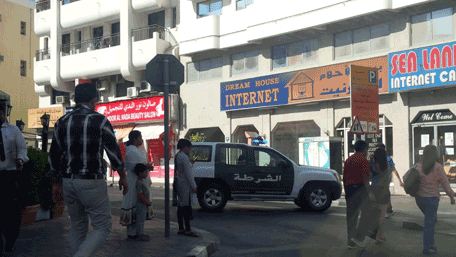 Eight people have been reportedly rushed to Rashid Hospital with burns after an explosion earlier yesterday afternoon in a laundry in Bur Dubai's Meena Bazaar area.
The explosion occurred at around 12.30pm, according to eye witnesses, with one woman amongst the eight injured, who was reportedly severely hurt.
No immediate cause of the blast has been reported. Eyewitnesses speculate that it may have been a gas cylinder or an air conditioner's compressor that caused the eruption.
RM. who works in a nearby laundry, was one of the first people on the scene and helped move the injured. He spoke to Emirates 24|7, saying: "I had just returned into my laundry when I heard the blast. It was exactly 12.30.
"I rushed to the main road and saw broken glass everywhere. I realised the wall of the Red Palace Laundry had exploded outwards."
According to him, the doorframe of the laundry hit a passing delivery boy, who was helped up by RM and rushed into the neighbouring building's airconditioned foyer.
Meanwhile, other volunteers rushed forward to help the injured, who, witnesses say, were suffering from burns, "with skin hanging off and clothes burnt away," said another.
JK, another of the volunteers said: "Eight people suffered burns, of which the woman was severely hurt and bleeding from the head. The watchman in the neighbouring building turned on the air-conditioning and we, along with the two paramedics who arrived within 15 minutes of the explosion, carried the injured inside to cool down their burning skin until the ambulances arrived."
JK also said that a passing station wagon was also damaged in the blast, with a family of four escaping injuries, but their car's rear windshield was smashed in the explosion.
The blast scattered shards of glass over 40 feet away to land near the newly built Al Fahidi Souk.
The laundry is positioned between two restaurants, namely Kulcha King and Zaika-E-Pakistan, both closed currently, with the street cordoned off to traffic as Dubai Police's forensics team, Dewa and municipality workers continued to investigate and clean the site.
No immediate statement has been issued by Dubai Police. RM, who works at his own laundry, said that the explosion could have been caused by the boiler or steamer used by the shop.
"No one knows exactly what happened, but it could be the boiler plate or the steamer used by the laundry that exploded. That's the only thing that makes sense considering there were no flames. Or the air conditioner's compressor. I spoke to the shop owner and he was not in his shop when the blast occurred," he said.
Follow Emirates 24|7 on Google News.