Emirates airline 'Festival of Literature' opens in Dubai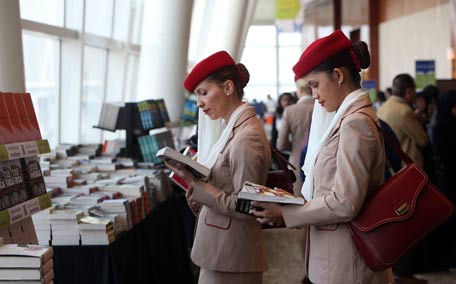 Recognised as one of the world's leading literary festivals, the sixth Emirates Airline Festival of Literature, began yesterday with over 160 writers, speakers and thinkers from 40 countries attending five days of literary festivities.
Opening the festival in a glittering ceremony, Sheikh Nahyan bin Mubarak al Nahyan, Minister of Culture, Youth and Community Development, said, "We in the U.A.E., under the leadership of President His Highness Sheikh Khalifa bin Zayed Al Nahyan, recognise that culture, literature and arts make valuable contributions to the quality of our daily lives." He added that the festival during the six years has "grown into a defining element of the cultural scene in Dubai and the U.A.E." The festival, which was named Best Festival' in the 2013 Middle East Events Awards, presents a dizzying array of genres, topics and subjects that will appeal to audiences of all ages.
The 2014 programme boasts some of the biggest names in the world of literature and journalism, with a sprinkling of celebrity mixed in, and includes Mohammed Achaari, Paddy Ashdown, Pam Ayres, AMISH, Khalid al Budoor, Saud al Sanousi, Darcey Bussell, Amit Chaudhuri, Eoin Colfer, Justin Cronin, Nicholas Evans, Judy Finnigan, Parween Habib, Joanne Harris, Ibrahim Mohammad Ibrahim, Ha-Joon Chang, Simon Kernick, Abdo Khal, Frank Klotgen, Prue Leith, Deon Meyer, Richard Madeley, Hassan Massoudy, Andrew Motion, Jojo Moyes, Ibrahim Nasrallah, Katherine Pancol, Jeremy Paxman, Tim Rice, Ali Al Sayegh, Francesca Simon, Lemn Sissay, Ahdaf Soueif, DJ Taylor, Morgen Witzel, Zep and many more.
This year also sees 45 Emirati authors attending, an unprecedented number in the festival's history.
Organisers estimate that more than 30,000 visitors will attend the Festival this year, which will take place in Dubai from 4th to 8th March under the patronage of the Vice President and Prime Minister and Ruler of Dubai, His Highness Sheikh Mohammed bin Rashid Al Maktoum, and is in partnership with Emirates and the Dubai Culture and Arts Authority (Dubai Culture), the Emirate's dedicated Authority for culture, arts, and heritage.
The festival is now part of the Emirates Literature Foundation, which was established last year by Royal Decree.
Highlights of the Festival include Desert Stanzas, a night of poetry and music under the stars and the Murder Mystery Dinner, where guests have the chance to use their sleuthing skills to solve a 'murder'. LitFest Art returns this year with a calligraphy exhibition, live-drawing by cartoonist Zep and Frank Klotgen's Book Architecture.
New for the Festival this year is Friday Rhythms: LiTTLe MACHiNe presents an evening of poetry and music, Big Ideas!, where select authors will speak for ten minutes on their chosen topic, and Literary Idol, a cross between Pop Idol and Dragon's Den, where aspiring writers can have their work anonymously critiqued.
Education continues to remain a focus at the festival with Education Day sessions open exclusively to students. The Children's competitions, the Chevron Readers' Cup, Taaleem Poetry Award, the Oxford University Press Story Writing Competition and the new Hamdan bin Mohammed Heritage Centere, Qasidah Par Coeur Competition, have all had an excellent response this year and the winners will finally be announced at the festival.
The Montegrappa First Fiction competition is now in its second year and after the success of last year's winners, participants will be waiting with bated breath for literary agent and competition judge Luigi Bonomi to announce the winners at his How to Get Published session.
Follow Emirates 24|7 on Google News.