Emirates, Etihad New York flights: Latest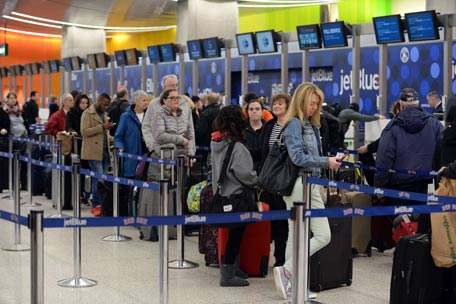 Latest: Etihad Airways has stated flight EY101 from Abu Dhabi to New York on January 27 has been delayed to arrive after the severe weather conditions. This is expected to cause delay to the departure of EY100 from New York to Abu Dhabi on January 27, marginally.
The airline states it is monitoring the weather conditions closely and has contingency plans in-place should there be further disruption to its remaining flight schedule.
The airline is assisting all affected passengers and advising them of itinerary changes.
Guests who have already purchased tickets involving travel to/from New York, Washington DC and Chicago on January 27 and 28 who may wish to alter their flight plans as a result of the adverse weather conditions in the Northeast can have one free of charge move to another date of travel on/before January 30, 2015 in the original class of booking.
No-show and change fees are waived for this one instance only, any subsequent changes will be subject to normal reissue fees. Cancellation and refund charges should be applied as per applicable rule.
Qatar Airways
Qatar Airways has also cancelled flights for January 27, stating: "Due to heavy snow forecast for the New York area, flights between Doha and New York are subject to schedule changes and cancellations."

Flight QR701 Doha-New York has been cancelled, along with QR702 New York-Doha for January 27.

The airline further states passengers due to travel on flights affected by the schedule changes should contact their local Qatar Airways Reservation Office or their Travel Agent.

Emirates
An Emirates spokesperson confirmed further flights have been cancelled for New York and Boston in wake of the blizzard.

"Emirates' flights to New York JFK and Boston today (January 27) are impacted by the snowstorms. Our flight today to Boston is cancelled, and passengers are being rebooked on the next available flight.

"In addition, the departure of two flights from Dubai to New York – EK203 and EK201 – have been delayed to avoid the worst of the weather.

"This will also mean a delay in the return flights from New York to Dubai. Customers can check emirates.com for the latest flight status. We continue to monitor the situation and at this time, we expect flights to New York and Boston to operate as scheduled tomorrow (January 28)."
Grounded
Emirates and Etihad Airways have announced that flights for January 27 may be impacted, as New York and Boston brace themselves for a 'historic storm', according to New York state Governor Andrew Cuomo.
Residents stockpiled supplies, in wake of the blizzard that will blow down the northeastern corridor of the United States in a few hours.
According to latest AFP estimates, nearly 6,000 flights remain cancelled, with Emirates confirming flights have been affected across two days.
(AP)
In a statement to Emirates 24|7, a spokesperson with the carrier said: "Emirates' flights to and from New York have been impacted by the snow storms on January 26 and 27. We are closely monitoring the situation and customers are advised to check our website regularly for updates."
Specifically, flight EK202 from New York JFK to Dubai on January 26 departed earlier than scheduled. Passengers who were unable to make the new timing were rebooked on the same flight on January 27.
Flights EK205/EK206 between Milan and New York on January 26 was also cancelled. Passengers will be rebooked to travel today.
The EK205/EK206 service will continue as scheduled between Dubai and Milan.
Flights to Boston will operate as scheduled at this time.
(AP)
The airline has further stated: "At this time, our flights to New York on January 27 remain as scheduled, subject to weather developments. We continue to monitor the situation closely."
Rebooking shall be made onto an available flight to the same destination for travel till January 29, inclusive and in the same booking class. This will be at no additional cost to the passenger and if required, the validity of the ticket may be extended.
Meanwhile, Etihad Airways' flight EY103 from Abu Dhabi to New York on January 27 has been cancelled due to a heavy snow storm in the Northeast.
As a consequence, EY102 from New York to Abu Dhabi on January 27 is also cancelled.
The airline further stated it continues to monitor the weather conditions and has contingency plans in-place should there be any disruption to its remaining flight schedule.
The airline has commenced assisting all affected passengers and advising them of itinerary changes.
Concerned passengers are advised to contact the Etihad Airways Contact.
(AP)
Winter's wrath
The National Weather Service (NWS) in the US has stated the major nor'easter is expected to bring heavy snow, blizzard conditions to the Northeast corridor, now being called Winter Storm Juno.
It further stated: "A storm system off the East Coast will continue to strengthen as it develops into a major nor'easter on Monday. As the storm moves up the coast, it is expected to bring snowfall of 1-3 feet or more to many parts of the Northeast through Tuesday evening, including New York City and Boston.
"Strong, gusty winds will combine with the snow to create blizzard conditions along and near the coast."
The NWS further stated blizzard warnings are in effect for the coastal areas of New Jersey, northward through Maine, along with Eastern Pennsylvania, West Virginia and Maryland.
Coastal flood warning are also in effect from Delaware to the coast of Maine.
Click to read: Blizzard brings New York to sudden halt
Follow Emirates 24|7 on Google News.