Emirates looking at new sukuk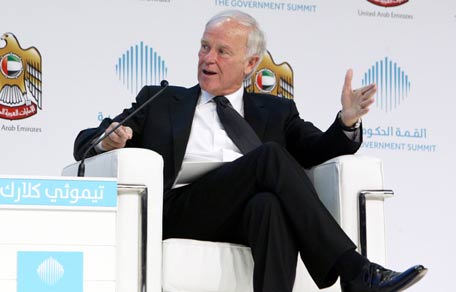 With its financial results being announced in a few weeks, Emirates President Tim Clark revealed the Dubai-based carrier has experienced a "better year" compared to financial year 2012-2013 when the airline posted a profit of Dh2.3 billion.
Speaking to reporters on the sidelines of the airline's launch to Boston on March 10, Clark also admitted that Emirates was looking into a Sukuk issue as possible financial vehicles to raise funds after the carrier made aviation history at last year's Dubai Airshow with an order book of $99 billion, which included 150 Boeing 777X, plus 50 purchase rights, and an additional 50 Airbus A380 superjumbos.
The Emirates President said: "We are looking at multiple places to pay for this order book, which includes a Sukuk. The Islamic market is particularly fertile and with sukuks and bonds and we will be looking at more of such types of financial vehicles in future.
"But not just limited to this, we will also look at other operating vessels such as renting out airplanes as you rent out a house."
He continued: "It has never been a problem to get finance for Emirates, as the balance sheet is so strong. The company track record of profitability and cash generation is strong and we are looked upon as a low-risk, gilt-edged vehicle in financial terms."
North American expansion
With the launch of its eight gateway in the US, Clark stated that Emirates was looking actively at potential cities to venture into, saying: "If you look at all the cities that we have expanded into across the US network, they fall into a certain kind of framework. And there are quite a few cities that are similar that we can target."
He continued: "The US expansion was initially mapped in 1998 and we signed the Open Skies agreement a year later. We had purchased a sub fleet of A340-600s identified for the US market, 20 of them, which have now been changed to more A380s. But 9/11 came along and shut us down. "The bounce back was very strong, but we were fairly traumatised by the nature of what happened. At that point we saw 20 points in the US we could target."
In the recent past, cities such as Miami, Philadelphia, Detroit and Denver are some of the names that have been discussed as potential for an Emirates expansion drive.
However, while Emirates is bullish on the US market potential, Canada remains a sore point with the airline unable to acquire further landing rights in the country.
"Canada is a time warp. We are not giving up on it, but it is difficult," admitted Clark.
Challenges to growth
Talking about some of the challenges the airline is facing in its growth expansion, Clark admitted that Dubai's areas of compression were a result of the flight movement, air traffic control issues and air spaces that needed to be managed.
"Constraints are being worked on a government level, with aero politics and Emirates being a well-known aviation brand it also brings problems as they try to block what we do," he stated.
Later in May, the airline is also being forced to ground 20 aircraft due to the 80-day runway closure.
Clark added: "The runway closure gives us difficulties, takes production away because these are used 24-7, unlike Heathrow which has curfews. It is doing some damage to us.
"But we are managing by grounding 20 aircraft. We are doing our best to deal with it. But we also have the foreign carrier community in Dubai that need to be looked after and they get a fair share.
"That said, flydubai and Emirates are taking the biggest hit in shutdown. We are trying to consolidate as much as we can."
Click to read: Emirates unlikely to hike India capacity

Quizzed whether Emirates would shift some operations to Dubai World Central (DWC), he replied: "Others are going to DWC. flyDubai I believe is doing that."
For long-term growth of Vision 2020, Clark admitted that as it stands with the airline's current order book, the old airport is unable to sustain the carrier at its full capacity.
"By 2020, Al Maktoum International will be built into a world-class field and will accommodate all or some. If we are moved, the foreign carrier community will inherit all the terminals we have built. But whoever goes DWC won't be short changed.
"However, there will be no hub split for the airline."
After denying rumours of a listing, Clark also ruled out an acquisition deal in the near future.
He said: "At the moment, no. But never say never. And whether we are looking at building an aviation hub like Qantas in the United States or elsewhere, the answer is no. We are not seeking to expand other than organically."
Follow Emirates 24|7 on Google News.