Emirates reports Dh1.3bn profit, ferrying 56.1m passengers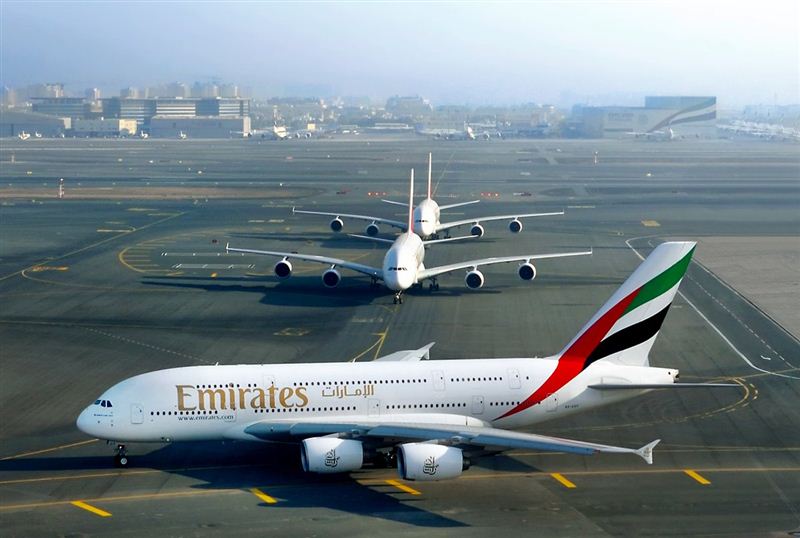 The Emirates Group reported Dh2.5 billion in profit, with the airline posting a Dh1.3bn profit for the financial year ending March 31, 2017.
The airline stated it is its 29th consecutive year of profit and steady business expansion, despite a turbulent year for aviation and travel.
As stated in its 2016-17 Annual Report, this year's Emirates Group profit was down 70 per cent from last year's record profit.
The Group's revenue reached Dh94.7bn, an increase of two per cent over last year's results, and the Group's cash balance decreased by 19 per cent to Dh19.1bn, mainly due to the repayment of two bonds on maturity and ongoing high investments into its fleet and aircraft related assets.
In line with the current business climate and to support the future investment plans of the Group, no dividend payment will be made to the Investment Corporation of Dubai (ICD) for 2016-17.
His Highness Sheikh Ahmed bin Saeed Al Maktoum, Chairman and Chief Executive, Emirates Airline and Group, said: "Emirates and dnata have continued to deliver profits and grow the business, despite 2016-17 having been one of our most challenging years to date.
"Over the years, we have invested to build our business capabilities and brand reputation. We now reap the benefits as these strong foundations have helped us to weather the destabilising events which have impacted travel demand during the year - from the Brexit vote to Europe's immigration challenges and terror attacks, from the new policies impacting air travel into the US, to currency devaluation and funds repatriation issues in parts of Africa, and the continued knock-on effect of a sluggish oil and gas industry on business confidence and travel demand."
Investment within
In 2016-17, the Group collectively invested Dh13.7bn in new aircraft and equipment, the acquisition of companies, modern facilities, the latest technologies, and staff initiatives.
Sheikh Ahmed said: "These investments will further strengthen our resilience, even as we extend our competitive edge, and adapt our businesses to the volatile business climate and fast changing consumer expectations.
"We remain optimistic for the future of our industry, although we expect the year ahead to remain challenging with hyper competition squeezing airline yields, and volatility in many markets impacting travel flows and demand.
"Emirates and dnata will stay attuned to the events and trends that impact our business, so that we can respond quickly to opportunities and challenges."
Across its more than 80 subsidiaries and companies, the Group increased its total workforce by 11 per cent to over 105,000-strong, representing over 160 different nationalities.
Emirates performance
Emirates' total passenger and cargo capacity crossed the 60bn mark, to 60.5bn ATKMs at the end of 2016-17, cementing its position as the world's largest international carrier.
The airline increased capacity during the year by 4.1 billion Available Tonne Kilometres (ATKMs), or seven per cent over 2015-16.
Emirates received 35 new aircraft, its highest number during a financial year, comprising of 19 A380s and 16 Boeing 777-300ERs.
At the same time 27 older aircraft were phased out, bringing its total fleet count to 259 at the end of March.
This fleet roll-over involving 62 aircraft was the largest programme it has ever managed in a year, and it brought Emirates' average fleet age down significantly to 63 months, compared with 74 months last year, and the industry average of 140 months.
The airline remains the world's largest operator of the Boeing 777 and A380 – both aircraft being amongst the most modern and efficient wide-bodied jets in the sky today.
During the year, Emirates launched six new passenger destinations: Fort Lauderdale, Hanoi, Newark, Yangon, Yinchuan and Zhengzhou; and one new additional freighter destination: Phnom Penh.
It also added services and capacity to nine cities on its existing route network across Africa, Asia, Europe, the Middle East, and North America, offering customers even greater choice and connectivity.
Against significant currency devaluations against the US dollar and fare adjustments due to a highly competitive business environment, Emirates managed to keep its revenue stable at Dh85.1bn.
The rise of the US dollar against currencies in most of Emirates' key markets had an Dh2.1bn impact on airline revenue, and to the airline's bottom line. It was the second largest measured in a financial year after last year.
Total operating costs increased by eight per cent over the 2015-16 financial year.
The average price of jet fuel fell slightly during the financial year. But due to an eight per cent higher uplift in line with capacity increase, the airline's fuel bill increased by six per cent over last year to Dh21.
Fuel is now 25 per cent of operating costs, compared to 26 per cent in 2015-16, but it remained the biggest cost component for the airline.
The airline successfully managed increased competitive pressure across all markets to remain profitable with Dh1.3bn, a decrease of 82 per cent over last year's record results, and a profit margin of 1.5 per cent.
Passenger growth
Overall passenger traffic growth continues to demonstrate the consumer desire to fly on Emirates' state-of-the-art aircraft, and via efficient routings through its Dubai hub.
Emirates carried a record 56.1 million passengers (up eight per cent), and achieved a Passenger Seat Factor of 75.1 per cent. The decline in passenger seat factor compared to last year's 76.5 per cent, is relative to the strong 10 per cent increase in seat capacity by Available Seat Kilometres (ASKMs), and also in part due to lingering economic uncertainty and strong competition in many markets.
Under pressure from the weakening of all major currencies against the USD, passenger yield dropped to 24.7 fils (6.7 US cents) per Revenue Passenger Kilometre (RPKM).
To fund its fleet growth in a year of record aircraft deliveries, Emirates raised Dh29bn.
Revenue generators
Emirates closed the financial year with a healthy Dh15.7bn of cash assets.
Revenue generated from across Emirates' six regions continues to be well balanced, with no region contributing more than 30 per cent of overall revenues.
Europe was the highest revenue contributing region with Dh23.9 billion, unchanged from 2015-16.
East Asia and Australasia follows closely with Dh22.6bn, up one per cent. The Americas region recorded revenue growth at Dh12.4bn, up three per cent. Gulf and Middle East revenue increased by four per cent to Dh8.7bn, whereas revenue for Africa declined by four per cent to Dh8.7bn.
West Asia and Indian Ocean revenue decreased by three per cent to Dh7.4bn.
Dnata performance
In its 58 years of operation, 2016-17 has been dnata's most profitable yet, crossing Dh1.2bn profit for the first time. Building on its strong results in the previous year, dnata's revenue grew to Dh12.2bn (, up 15 per cent. dnata's international business now accounts for 66 per cent of its revenue.
This substantial revenue increase was achieved through organic growth, and bolstered by its new acquisitions of dnata Aviation Services in the US in April 2016 and Air Dispatch in the Czech Republic in July 2016, in addition to an increase in its shareholding of Oman United Agencies Travel in Oman, and the full year impact of dnata Brazil acquired during the previous year.
Building on last year's record levels of investment, dnata continued to lay the foundations for future growth by investing more than Dh1 bn into developing its people, facilities, technology and new acquisitions.
Follow Emirates 24|7 on Google News.