Emirates Road's 'deadly' zone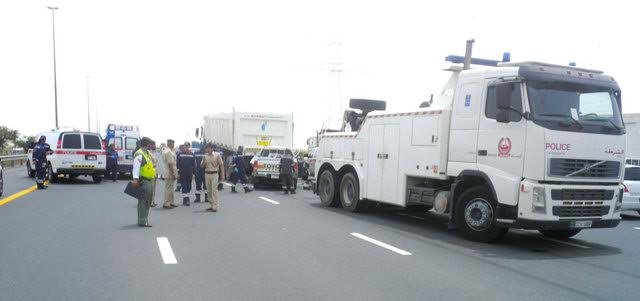 A two-km stretch on Emirates Road, exactly before the exit leading to Maliha towards Sharjah, has witnessed deaths of 12 people due to traffic accidents, 'Emarat Al Youm' reports.
According to a field study conducted by Al Rashidiya Police Station, the 12 people died over a five-month period, of which four deaths are reported this year.
Brigadier Saeed Hamad bin Sulaiman Al Malik, Director of Al Rashidya Police Station, told 'Emarat Al Youm' that most of the accidents resulted from collisions with trucks parked or moving slowly.
Lt. Colonel Omar Moosa Ashour, Head of the Traffic Records Section at the police station pointed out that changing the signage, confining trucks to specific lanes on Emirates Road, as well as using a new radar device to track trucks are some ways to reduce deadly casualties.
The study indicated that there are common factors among most of the incidents, including the timing of the occurrence of the accidents – between 9.45am and 12 noon.
Roads consists of six tracks in Dubai but shrink to just three over the bridge that links it to Sharjah, the study showed.
Most of the drivers involved in the accidents work in Abu Dhabi and reside in Northern Emirates.
Lt. Colonel Ashour said the team is keen to consult with truckers.
The study also proposed reducing speed from 140kmph to 100kmph.
Follow Emirates 24|7 on Google News.