Emirates Steel ends 2016 with new production record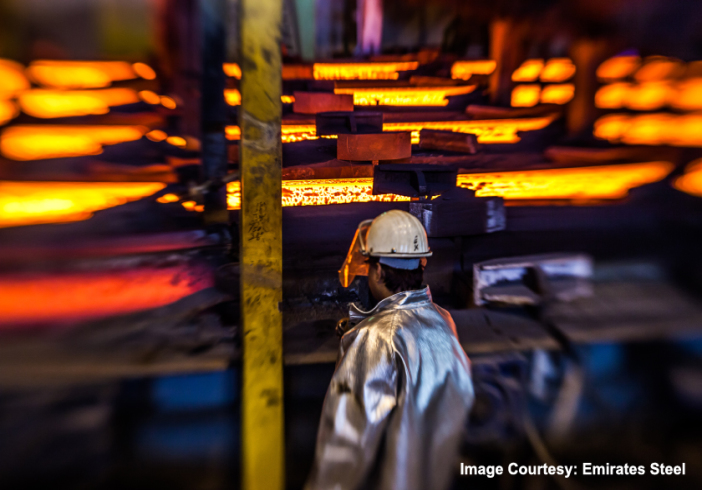 Within its strategy to further increase its contribution to the economic diversification efforts, and strengthening the economic performance of the non-oil sectors in line with 'Abu Dhabi Economic Vision 2030', Emirates Steel, the only integrated steel plant in the UAE, owned by Senaat, has exceeded its last manufacturing record of the company's Steel Making Plant 2 (SMP2) to achieve 40 heats per day of 6024t of Beam Blanks; accomplishing an unmatched record on international levels from a 150 tons Electric Arc Furnace.
Emirates Steel also reported that its Rebar Rolling mill RM5 production exceeded 500000t/year in 2016.
The direct reduction plants (DRP) production has jumped in 2016 by 9% against 2015, whereas rolling production witnessed an increase of (6.2%) for its (Rolling Mill 2) RM2 and (7.7%)for RM5 (Rolling Mill 5), while its SMP2 and SMP3 (Steel Making Plant3) reported production increases by (8.2%) and 10.0%) respectively in 2016. Up to end December 2016; Emirates Steel produced 510 kt of wire rod, 2068 kt of Rebar and 547 kt of Heavy Section including Sheet Piles.
In 2016 the company reported sales of 2,139,203 tons of Rebar compared to 2,046,314 tons in 2015, 422,542 tons of wire rod compared to 353,106 tons in 2015 and 479,807 tons of heavy sections compared to 522,978 tons in 2015.
Furthermore; Emirates Steel increased focusing on special segments to achieve additional value for the business across its product lines, such as diversifying its Heavy Section products by developing in house highly competitive sheet piles; the long structural sections with a vertical interlocking system, mainly used to create a wall which is earth tight or water resistant.
The company reported sales of 51,730 tons of sheet piles compared to 15,360 t in 2015 achieving an increase of deliveries of around 236.8%.
Emirates Steel also achieved an increase of 31% in its deliveries of value added rebar and wire rod in 2016, whereas in 2016 it dispatched around 17,426 tons of value added rebar, and 49,370 tons of value added wire rod.
Emirates Steel attributed the new record to operational improvements completed by the company; accordingly generating positive net profit despite the difficult market environment while achieving cost figures that are below international benchmarks.
Emirates Steel has strategically put in place a number of significant actions such as optimal productivity and adaptations, as well as supply chain transformation initiatives aiming to further improve performance and value to business.
The company's current product range includes; straight length reinforcing bar (rebar) and rebar in coil, wire rod, hot rolled structural steel sections, ( beams, columns, channels and sheet piles), in addition to value-added products; a stronger steel with higher tensile strengths and steels with special mechanical properties so that lesser quantity of steel is required by customers.
Emirates Steel has maintained its position in domestic market through a policy of actively developing strategic relations with its customers; just in time deliveries; and an absolute focus on customer service, sustaining its domestic market share to approximately 70%, while significantly expanding its export business, particularly for higher value added products.
Follow Emirates 24|7 on Google News.