Emirati and Italian co-author book about local culture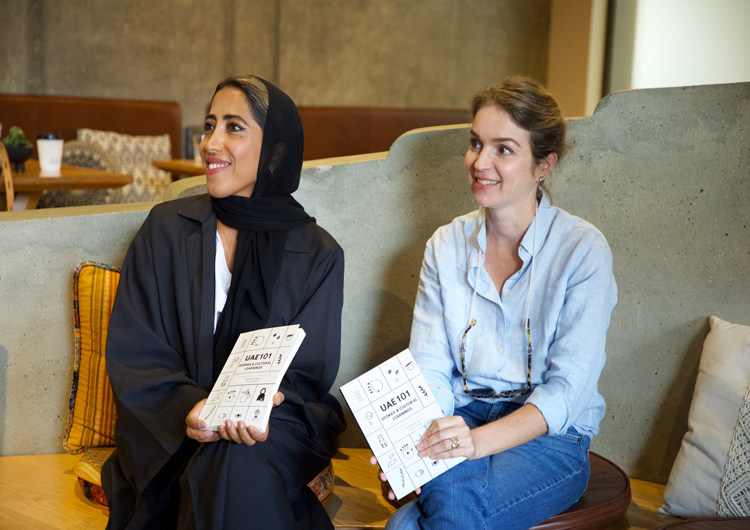 An Emirati and her Italian neighbour have teamed up to co-author a new book which attempts to break down cultural barriers in the UAE.
The writers of UAE 101 Stories and Cultural Learnings: A Guidebook To the Emirati Culture have put together 159 pages of cultural tips and stories to try and bridge the gap in understanding between expatriates and locals. Readers can discover the Emirati sense of humour, table manners and even what it means when a local strokes his beard as you are talking.
The book is by 38-year-old Illaria Caielli, who is originally from Milan, and Roudha Al Marri, 36, who was born and raised in Dubai.
At the launch in Dubai's Myocum Café on Monday, Caielli explained to Emirates 247 how the idea was struck upon.
"I was here in UAE and very interested in the culture and the history, but I noticed it wasn't easy to make friends with the locals. I began to wonder why. Then I met Roudha, and the chemistry was good, and it came from that."
The book has sections on Emirati history, traditions and lifestyle but the pair stress this isn't a travel book. The practical facts, by Caielli, are mixed together with Al Marri's stories from people who live here.
"We wanted to write a book for people who are genuinely interested in discovering local culture", said Al Marri. "We want to let people know things like why women wear so much perfume, or why Fridays are special, or what to do when visiting a local at home for the first time. It's a cultural guide, not a tourist guide. If you want to understand the emirates, we make it accessible."
Al Marri says she hopes that the book – which is on sale this week - will help families new to the emirates to make new friends. "As locals we have no problems with making friends with anyone living here. If this book is a bridge to make that happen, I'll be very happy."
Follow Emirates 24|7 on Google News.