Emirati graduates want Dh20,000 starting pay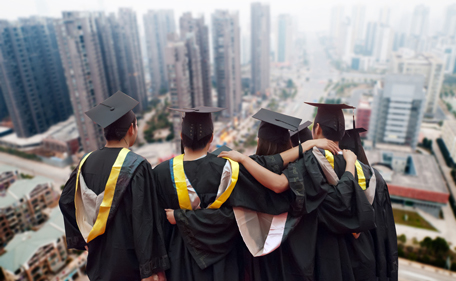 Emirati students expect over Dh20,000 as starting salaries after graduation, according to a poll run during the ongoing Tawdheef event, a career fair offering job opportunities to the nationals.

Over 100 Emirati university students from across the UAE took part in the annual forum on its first day and expressed their immediate priorities after graduation, expectations from the job market, and their recommendations for future employers in the poll.

In 2006, minimum wages for UAE nationals were set at Dh3,000 for sub-secondary school degree holders, Dh4,000 for secondary school degree holders and Dh5,000 for post-secondary school degree holders.

Not only are the UAE graduates' expectations more than the minimum set wages, a majority of respondent students (67 per cent) said they would rather work for the public sector instead of the private sector, citing less annual leave, long working hours and lower salaries as the primary reasons for their choice.

The government is encouraging the local workforce to join the private sector but it still is dominated by expats in the country.

It is estimated that Emiratis working in the private sector do not exceed 7 per cent according to published data from the UAE Ministry of Economy. However, initiatives by private companies like scholarship and workplace internships are helping nationals choose careers in the private sector.

Better salaries, more diversified benefits and international career options were voted amongst the factors that would encourage students to consider the private sector. Work outline and lack of career progression are the main reasons students look outside the public sector for work, the poll reveals.

"Currently, many government organisations offer very attractive packages to nationals. And unfortunately there's no 'clever' solution to this for the private sector. If companies want to compete for Emirati talent, they simply have to develop employment offerings that at least match that of public sector organisations," says Gavin Smith, Managing Director of ReThink MEA.

"Paying higher salaries is one factor that can entice nationals to join but businesses should also be creative when it comes to offering different benefits and flexible working hours," he added.

Even though not in big numbers, many students are now looking beyond the routine work by becoming entrepreneurs. As per the poll findings, 20 per cent of the students said they would be looking to start their own businesses after they graduate.

When asked about national service, Emirati male students said they have positive expectations about the impact it will have on their careers. Up to 38 per cent believe that it will help them adapt better to challenging work environments and 25 per cent said that it will strengthen their professional skills.

Addressing Emirati students, the Youth Forum also hosted national role models who inspired the students by speaking of their journey outside of the public sector.

Role model speaker Manar Mohammed Bin Talib Al Hinai, Head of Corporate Communications at Abu Dhabi Investment Company, said, "When I was in university, it helped me a lot to hear about other people's stories. We have all been in these young students' shoes and we know how it feels when one needs guidance and we're glad to be helping and giving back to the UAE community."

The Tawdheef career fair runs from February 2 to 4 at Abu Dhabi National Exhibitions Company.

Follow Emirates 24|7 on Google News.