Emirati students - voice of Qasr Al Hosn Festival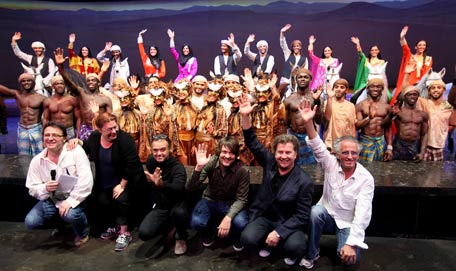 A number of Emirati university and college students become the voice of Abu Dhabi's most important historic and cultural celebration - the Qasr Al Hosn Festival, which is being held under the patronage of General Sheikh Mohamed bin Zayed Al Nahyan, Crown Prince of Abu Dhabi and Deputy Supreme Commander of the UAE Armed Forces.

The festival started on February 20 and will continue until March 1 on the site of Abu Dhabi's oldest structure dating back to the second half of the 18th century.

Over 160 students will be on-site during the festival days to ensure visitors gain the maximum experience during their visit. This will also be a learning real-life experience for the students, as they will enhance their communication and visitors services skills while they prepare to become Qasr Al Hosn Ambassadors.

As ambassadors, students interact with the audience and introduce them to the festival's public programme which includes an array of workshops, cultural activities and interactive learning experiences, as well as performing arts programmes including music, story-telling and poetry.

The Ambassadors support the curators, artisans and experts in running the workshops and activities, providing additional guidance and informative details to the visitors. They are present throughout the festival's themed zones - Desert, Oasis, Marine and Abu Dhabi Island - helping with activities including dhow building, palm weaving, sea chanting, falconry, tree climbing, making Gahwa (the traditional Emirati coffee), besides a number of other Emirati-themed activities.

The Ambassadors programme is vital in increasing awareness among Abu Dhabi's young generations of the history, traditions and culture of the Emirate dating back to when Qasr Al Hosn became the first permanent structure in Abu Dhabi.

Reem Al Mansouri, Public Engagement Officer at Abu Dhabi Tourism '&' Culture Authority said, "We wanted to engage different segments of the community with the Qasr Al Hosn Festival and this is a great way of strengthening the historical importance of the fort among the young generation, as well as embedding a spirit of giving back to the community."

Al Mansouri added, "The Qasr Al Hosn Festival is a celebration of our true cultural identity and a chance for everyone to cherish Qasr Al Hosn - the birthplace of Abu Dhabi. We also want people to learn about the fort restoration plans."

The Qasr Al Hosn Ambassadors are selected from a number of Abu Dhabi's main educational institutions, including Higher Colleges of Technology, Al Hosn University, Emirates College of Advanced Education, Zayed University Abu Dhabi, Paris-Sorbonne University Abu Dhabi, Abu Dhabi University, UAE University and Al Ain University of Science and Technology.
Follow Emirates 24|7 on Google News.