Emirati woman saves family after cruise control fails at 138kph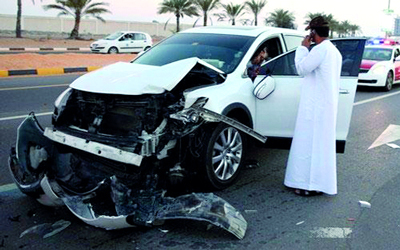 An Emirati female driver with her three little children, sister and a housemaid demonstrated great courage to save family lives when she rammed her car into other vehicles to bring it to a halt after her car's cruise control failed at 138 kph.
Iman Masoud Al Shehi, 29, was driving her four wheel car on Sheikh Mohammed bin Zayed Road from Dubai towards the northern city of Ras Al Khaimah on Saturday when the cruise control broke down, prompting her to phone the police.
Iman said she was frightened and burst into crying as she came close to the busy Etihad roundabout at the entrance of RAK, where a police car was trying to clear the road for her. She said her children also started to cry while her sister tried to calm them down, adding that she began to pray just before reaching the roundabout.
"I prayed to God and burst into crying just before reaching the roundabout which was very busy at that time…I unleashed my car honk to alert the other drivers," she said, quoted by the Dubai-based Arabic language daily Emarat Alyoum.
"At that moment, I decided to ram into other vehicles…when I hit two cars, I was struck with horror as I was worried about my family…they began screaming when the car came to a standstill and I saw police and ambulance men opening my car doors and taking us out to safety…my children, sister and the maid were safe but I suffered from medium injuries in the head and right shoulder…this is because the air bag did not open and this proves that there was a technical problem in the car."
The paper quoted RAK traffic police chief Colonel Abdullah Mankhas as saying he had ordered the immediate dispatch of police cars and an ambulance after receiving Iman's phone call. "We tried to clear the road to ensure the safety of all road users but the high speed of that car and the presence of many vehicles on the road led Iman to ram into other cars without causing any casualties," he said.
Iman said she had a similar problem last year when her car accelerator failed inside RAK, adding that she managed to stop it with the help of her brother, who told her by phone to move the gear to the neutral position.
"This time, my decision to ram into other cars was very difficult but it was needed to stop the vehicle and save lives," she said.
ALSO READ:

Honest thief returns Sharjah grocery owner's passport


Scam victims or frauds? 'Duped' couple turn out to be MFR agents


How you may recycle expired or unwanted medication
Follow Emirates 24|7 on Google News.