Emiratis and expatriates embark on marathon 'Camel Trek' in the desert of the UAE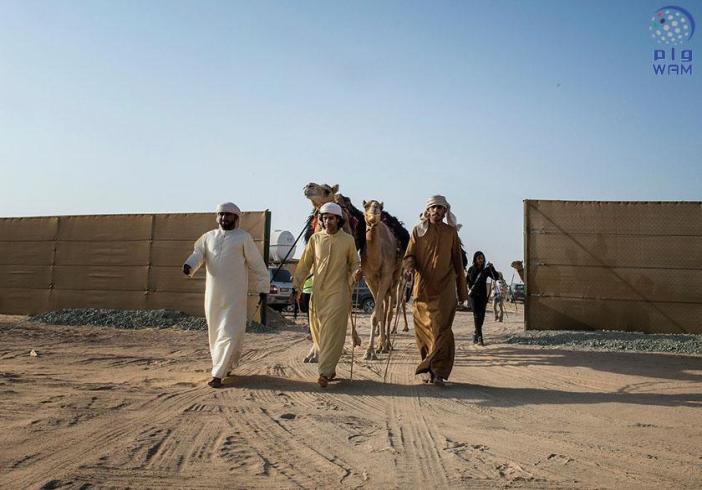 A group of Emiratis and expatriates have begun their adventure in the desert of the UAE in the third edition of the 'Camel Trek' organised and supervised by the Hamdan Bin Mohammed Heritage Center (HHC), setting out from Nakhra area in Dubai on Sunday.
A total of 13 men and women are taking part in this week-long expedition which will culminate on 28th January when they return to Global Village after their marathon journey.
They were selected for the 'Camel Trek' after expressing interest in following the footsteps of people who lived in the desert and have undergone an intensive training program by the organizers HHC.
"We are heading south East and will be using old navigation methods. Everybody is ready now and their bodies are fit to go on this trip. All are raring to go on this exciting journey. We have a lot of support from the organizers with cars following us in case of emergency or to provide first aid. We have logistics on ground," said the leader of the 'Camel Trek' Khalifa bin Sabeen speaking at the start of the expedition.
"We have to follow the tracks. There are certain areas for resting and we have to camp before the sun sets so we can set up the tents. We will work as a team with some people taking care of the camels and saddles, some will do the tents and some others will cook the food," he explained.
The 13-member convoy comprises camel riding enthusiasts from Oman, United States, Egypt, France, United Kingdom and the UAE, with four women and nine men.
There are five women in the group which is expected to cover a distance of 40-50 kilometers each day during their trek.
Among them are two British nationals, Rhian Adams and Hina Webb, who climbed Mount Kilimanjaro in Tanzania, last year.
"I am grateful to HCC for welcoming me on this trip. It has been great fun so far," said Rhian enthusiastically even before embarking on the journey.
"Rhian is a very good friend of mine. I used to do personal training with her as well. She helps me get fit and try new things. She took me up to Kilimanjaro last year. This year she has invited me to join her on this trek," said Hina Webb.
Both acknowledge that the physical challenge will be different while riding a camel on the desert than trekking a mountain on foot.
"To be honest the last 12 months I spent more time in a sleeping bag in the outdoors than in my own bed. So I'm basically a hiker. During the last year, I climbed Kilimanjaro and Everest base camp. I love the outdoors, love challenge of camping," said Rhian who is a fitness trainer and owns a camel which is about to deliver a baby.
Although she is fit as a fiddle, she is more confident after the training she received.
"It's been really progressive from just sitting on a camel to getting up and down. I'm learning to hold on properly to going around on my own on a camel and guiding him and also setting up the camel like the braces to the saddle. It obviously has to be very precise and very strong," said Rhian who undertook this expedition because she loves camels.
For her friend Hina, it will be an experience of a lifetime but she is up to the challenge.
"Other trekking has typically been on my legs. This is with a very beautiful animal, in a very different landscape with the Arab culture and hospitality. So looking forward to experiencing the traditions and great adventure ahead," said Hina, a lawyer who loves working out.
"I have been away in Ethiopia. HHC team (organisers) have been very kind. They taught me how to get onto a camel and off the camel. I have ridden a camel before ages ago but this is the first time I'm going to embark on this kind of journey. HHC has been absolutely fantastic amazing, kind and hospitable," she added about her readiness for the 'Camel Trek'.
Follow Emirates 24|7 on Google News.