Emiratis rescued after 3 days at sea on boat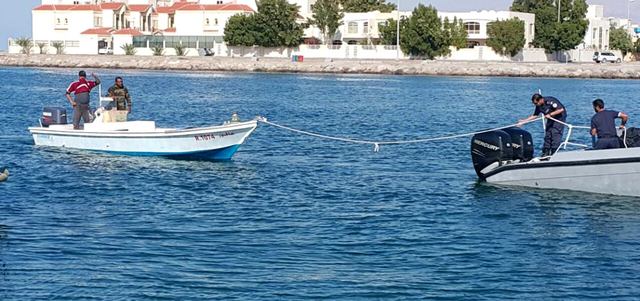 An Emirati fisherman and his friend spent two nights and three days at sea after their boat's engine crashed and its battery ran out of power during a fishing trip on Saturday.

Ibrahim Hamad, a resident of Dubai, told the Arabic daily newspaper 'Emarat Al Youm' that he and his fisherman friend Ali Hassan went fishing in the sea off the coast of Ras Al Khaimah on Saturday at 10am, expecting to return to shore by 5pm.

"We set off in our small boat looking for big fish but as soon as we got to the fishing point, the boat's engine failed and we discovered that the battery is not working at full capacity," said Ibrahim.

He said he had sent a text message to one of his friends to tell him that the boat's engine had stopped working, hoping that his friend would get the message and inform the authorities, but his friend did not receive the message.

"When night fell, I tried to create a small light by using what is left from the engine's battery power to alert other boats, but the light was weak due to poor battery," he said.

"We spent the first night in great fear as the boat was small and open and high waves could sink the boat, so we lowered its anchor to the sea floor to stabilise the vessel and prevent it from drifting," he explained.

"We slept intermittently at night and hoped that a passing fishing boat would rescue us. We continued like this till Sunday morning," he said.

Then the waves started to rise, and they raised the boat's anchor so as to help the waves move the vessel closer to the shore.

The two men became tired as a result of hunger, thirst and lack of sleep.

In the middle of the day, they saw a fishing boat approaching them, they began to shout for help.
"The fishing boat approached us but its owner refused to save us thinking that we are foreigners. He then left and returned after few hours and the boat's captain asked one of his workers to talk to us to find out our identity," he said.

"As soon as we spoke in the Emirati Arabic dialect, the owner of the boat came to us and asked for our identity and the reason for our presence in the sea. When we told him about the failure of our boat's engine, he took us into his boat," he said.

"At the same time, two helicopters came to find us because my wife had informed the authorities," he continued.

Ibrahim Hamad and Ali Hassan reached Ras Al Khaimah beach in the evening in severe fatigue.




Follow Emirates 24|7 on Google News.