Emiratis vs Asians: Which drivers crash most?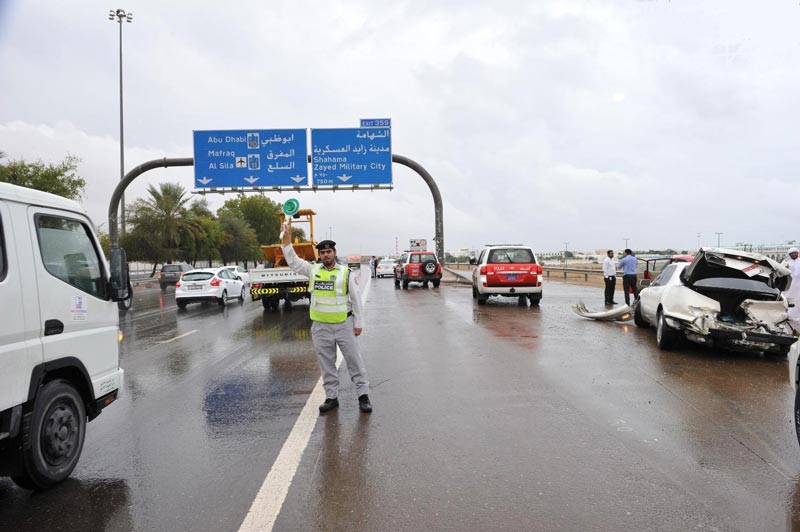 The latest figures from the Traffic and Patrols Directorate at Abu Dhabi Police showed a significant improvement in the levels of traffic safety in Abu Dhabi in 2014 compared to last year.

Brigadier Hussein Ahmed Al Harithi, Director of Traffic and Patrols Directorate at Abu Dhabi Police, also indicated that statistics have shown that traffic accidents on the 10 most dangerous roads in the emirate of Abu Dhabi registered a decrease of 11%, from 645 accidents in 2013 to 575 accidents in 2014.

Statistics also showed a decrease in traffic fatalities on the same roads by 23% from 156 in 2013 to 120 in 2014 and severe injuries decreased by 40%.

The 10 most dangerous roads in Abu Dhabi are Abu Dhabi - Al Sila Road, Abu Dhabi - Al Ain Road, Al Ain - Dubai Road, Abu Dhabi - Al Ain Truck Road, Gayathi Road, the new Madinat Zayed Road, Abu Dhabi - Dubai Truck Road, International Airport Road, Hameem Street and Sweihan Road.

Brigadier Al Harithi noted that Asian drivers caused 38% of traffic accidents, while Emirati nationals caused 34% of the accidents and Arab drivers caused 19% of traffic accidents in Abu Dhabi.

Approximately 47% of traffic accidents were caused by young drivers aged between 18 and 30 years; which require pursuing additional efforts to enhance traffic awareness and education among this age group."

Biggest killers

Moreover, the Director of Traffic and Patrols Directorate tackled the most important causes of traffic accidents during 2014.

"Over speeding, neglect, and lack of attention on the road were the main causes of traffic accidents recorded last year, as they were each responsible for 16 per cent of the number of total accidents.

"Sudden swerving caused 15% of accidents; failure to maintain a safe distance between vehicles caused 12 % of accidents; and running red lights caused 8% of accidents,", he said.

Brigadier Al Harithi also shed the light on the continuous efforts that led to these results and improving traffic safety, notably intensifying traffic awareness among drivers in both public and private sectors as well as in the education sector.

"A total of 37,797 drivers have benefited from 372 traffic awareness lectures as well as the traffic awareness councils for citizens. A total of eight councils have been organized in Abu Dhabi and Al Ain, benefiting around 570 citizens," he continued.

Social media

Moreover, Al Harithi referred to the ongoing traffic awareness activities implemented as a part of the "Together" campaign, the Abu Dhabi Traffic's programme to reduce traffic accidents. He explained that the number of awareness messages via Facebook have benefitted as many as 10,793,465 individuals; the program had 151,500 followers via Facebook; the number of people who interacted with the messages on Twitter amounted to 1,650,131 users; the number of followers on twitter totaled 28,464 followers; and the number tweets on Twitter during the same period amounted to approximately 5,149 tweets. He added that the new hashtag #DriveSafelyUAE #"was also launched as a part of the campaign, within the framework of the Abu Dhabi Traffic's programs to reduce traffic accidents, in order to spread traffic awareness among the various society segments.

Additionally, Brigadier Al Harithi stressed the directorate's keenness to intensify traffic control by increasing the number of traffic patrols, traffic investigation civil patrols, and radars.

Vehicles seized

He indicated that as a result of these efforts, the directorate has seized 4,775 vehicles for driving at dangerous speeds, exceeding 200kmph on both internal and external roads. It also revoked 6,468 driving license from reckless drivers for three months for committing multiple traffic-related offences and exceeding the cumulative total of 24 black points in order to achieve the highest levels of safety on roads.
Follow Emirates 24|7 on Google News.