Enoc Tasjeel extends services to RAK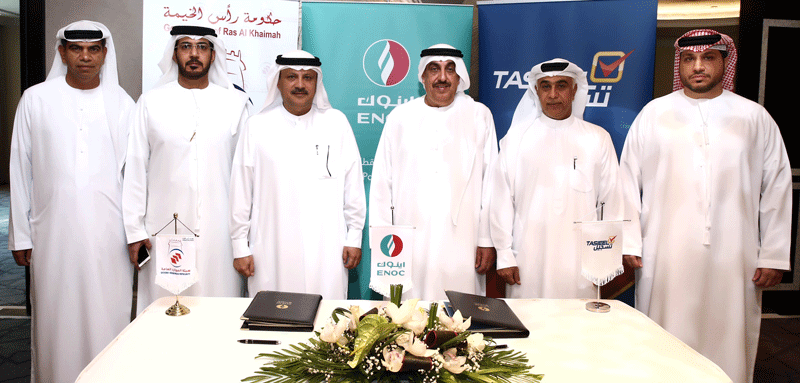 Tasjeel, the UAE's one-stop-shop for vehicle testing and registration needs, has signed a contract with the RAK Government to open its first Tasjeel branch in Ras Al Khaimah.
The expansion is part of the company's plans in strengthening its market presence in the country, especially the Northern Emirates.
Saif Al Falasi, Enoc Group CEO, commented on the new announcement: "Our new plan to expand in the Northern Emirates and provide our services is a true testament of our commitment to continue our growth in the country without any geographical limitations. We will continue to invest in strengthening our Tasjeel network throughout the UAE."
Burhan Al Hashemi Managing Director, Enoc Retail, said: "Tasjeel has underlined its credentials as the trusted name in providing vehicle testing and registration services. We are proud of this opportunity to expand our network and work with the RAK Government to support their plans to provide high-level customer service. Safety is of the utmost importance to us and we are honoured to be chosen by the RAK Government to support them in ensuring the highest standards of vehicle testing services, and to add to the convenience of motorists."
Jamal Ahmad Al Teir, Chairman of Authority of Public Resources at Ras Al Khaimah, added: "We are very excited about our new partnership with Tasjeel as they have built a very strong reputation through the years. Our goal is to always provide the best possible service to residents of Ras Al Khaimah. We look forward to building on this collaboration and continuing our work with them in the coming years to further enhance our services."
A business unit of Enoc Retail, Tasjeel undertakes all mandatory tests that are required for vehicle registration. Tasjeel now owns and operates 11 sites and two mobile units in Dubai and Sharjah. All of Tasjeel's sites are equipped with the latest testing and inspection machinery, and professionally qualified staff members.
Follow Emirates 24|7 on Google News.