Eppco shuts three filling stations in Sharjah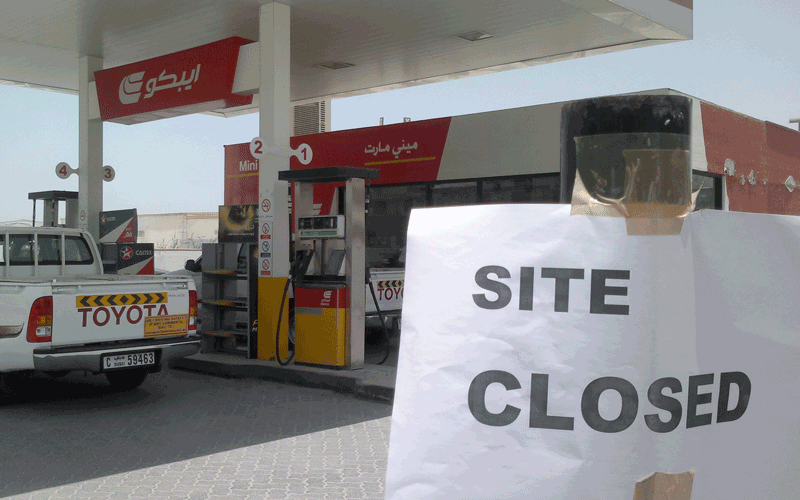 The number of petrol stations in the city are coming down as the leading oil marketing companies are undertaking a rationalisation of
their assets and resources.
Emirates Petroleum Products Company (Eppco) has permanently closed three of its major outlets in Sharjah.
Eppco/Enoc outlet in Al Qasimiya near Mega Mall, a busy residential pocket has been permanently closed and motorists who frequented the
site are now trying to alternative locations in the adjacent areas.
The closure of three outlets is seen as a reflection of the pressure on the company's profit margins due to high international oil price
and the regulated retail price at its outlets.
An Enoc spokesman told 'Emirates24|7': "As part of upgrading its older service stations and in line with the environment management policy,
Emirates National Oil Company (Enoc) has decided to suspend the operations of three sites in Sharjah, all of which are more than 20 years old. The resources at these sites, including manpower, are being deployed to newer service stations."
Enoc/Eppco currently operates a large network of 41 sites in convenient locations throughout Sharjah, thus minimising any inconvenience to the customers."Enoc is committed to adding value to all our stakeholders, and the decision is in line with our concerted efforts to strengthen resource use efficiency."
Enoc said earlier it will have to spend 80 per cent more this year on providing fuel subsidies compared with what it did in 2010 to bridge
the difference between the internationally increasing price of oil and the subsidised rates in the local market estimated by the company at
Dh2.7b for 2011 through internal resources.
This subsidy is 80 per cent more than the Dh1.5bn it spent in subsidising fuel last year. "Due to the rise in price of fuel in the international markets, the company had to internally meet the cost of providing fuel at subsidised rates in the local market, valued at Dh1.5bn during 2010, Enoc said in the statement earlier.
Based on the financial review of Q1 2011, during full year 2011, Enoc will have to meet an additional Dh2.7bn internally to cover the fuel subsidies offered locally. This arises from the difference in the increasing price of petrol sourced from international markets and Enoc's fixed sale price at its stations. As per the Annual Report, during 2010 and the first quarter of 2011, Enoc recorded positive results.
"I have been a regular customer in this site, because it is very conveniently located and there was a nostalgia associated with the nearest petrol station. Now I am filling from another petrol station," said Mohammed Hashim, a Sharjah resident.
The other two closed sites are also located in Sharjah industrial area close to Geco Roundabout. Some of the employees have been relocated to other sites, while some have lost job.
There are about 167 Enoc and Eppco petrol stations in the UAE in total and how many will be affected by the rationalisation is unknown, and it is likely that new sites are under way.
Emarat has about 39 petrol stations in different parts of Sharjah, some of them located close to the Enoc/Eppco stations. Petrol stations located close to the closed outlets are getting more business. "When there was a fuel supply problem in Emarat petrol stations, we did not get time to take rest. Our daily business volume had gone up from Dh45,000 per day to Dh50,000 per day," said a petrol station supervisor. "Most of the petrol stations located in convenient locations are doing well," he added.
"Whenever there is a road development or other construction work hindering access to a petrol pump and its associated businesses like
convenient stores or car wash services, the number of customers come down drastically. As the property is normally on long term lease, the
income from reduced business will not be enough to profitably maintain the site," said an EPPCO source. While three sites are permanently
closed, some sites the operation has been scaled down. In one of the Tasjeel locations in Sharjah, petrol selling has been suspended.
The petrol stations too have many other public conveniences like bank ATMs, tyre express and cafeterias that attract more customers.
Eppco is a joint venture between Enoc and Caltex operates across a variety of sectors including petroleum retailing, aviation refuelling, lubricants marketing and terminal ling.
According to its official website, Eppco has a network of more than 120 service stations across Dubai and the Northern Emirates. Its petrol marketing business is supplemented by a wide network of 24-hour Star Mart convenience stores, Mini Marts, car washes and Quick Lube outlets.
Eppco also runs the Enoc network of 30 service stations, Tasjeel car registration joint venture and the FixPlus vehicle servicing centres.
The Enoc/Eppco sites also houses a number of fast food chains such as the KFC, Texas Chicken, McDonalds, Subway and other international brands. Plans to introduce self service in petrol stations also did not make much progress as most customers did not prefer to so.
Follow Emirates 24|7 on Google News.