ERC completes surgery department at Sheikh Zayed Hospital in Kosovo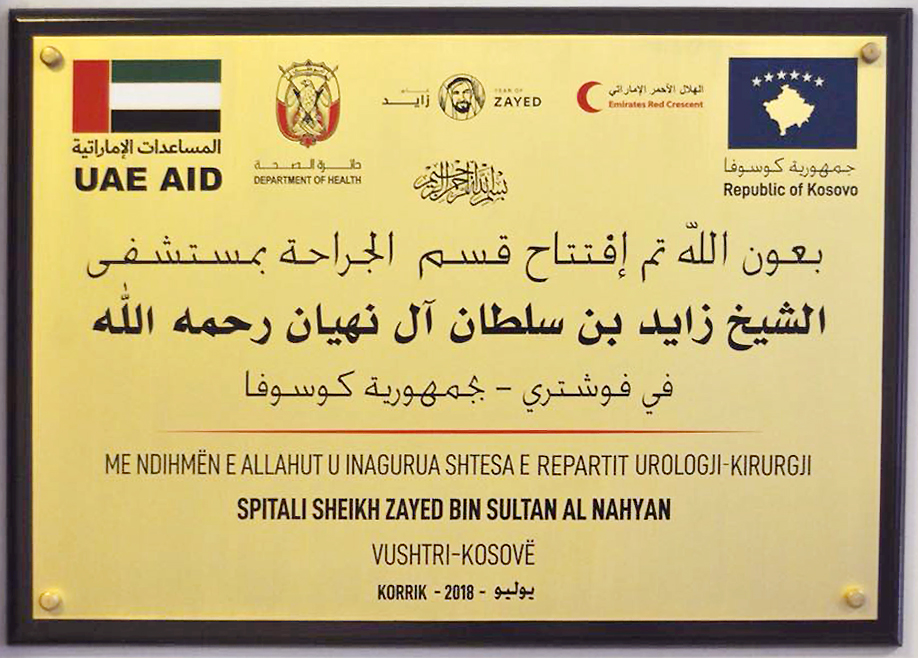 The Emirates Red Crescent, ERC, has completed a surgery department at the Sheikh Zayed bin Sultan Al Nahyan Hospital in the city of Vushtrri, in the northern part of Kosovo, with the support of the Department of Health - Abu Dhabi, at a cost of AED1.387 million.
The move is part of the ERC's humanitarian efforts aimed to improve the hospital's medical and health services, as well as to provide humanitarian aid and infrastructure services across the largest possible number of Kosovan cities.
Dr. Mohammed Ateeq Al Falahi, ERC Secretary-General, noted that the ERC's health projects in Kosovo were implemented upon the directives H.H. Sheikh Hamdan bin Zayed Al Nahyan, Ruler's Representative in Al Dhafra Region, Chairman of the ERC, in line with the longstanding humanitarian approach adopted by the UAE in Kosovo.
He added that the construction of the hospital in Vushtrri is one of the UAE's milestones in Balkan Peninsula, and fits within the reconstruction efforts made by the country in Kosovo, while noting that the hospital serves over 400,000 residents of the city and neighbouring areas.
The hospital is also the largest medical project launched by the Kosovo's Health Government Sector since the end of the Balkan Crisis, and underlines the friendship ties between the UAE and Kosovo.
The hospital is equipped with the latest in medical technology and was funded by the Khalifa Bin Zayed Al Nahyan Foundation. It covers 5,200 square metres and includes 72 beds, a maternity unit, radiology and laboratory departments, a dental clinic, an intensive care unit and an ER.
Upon the directives of the late Sheikh Zayed bin Sultan Al Nahyan and the follow up of Sheikh Hamdan, the ERC continued, during the Balkan Crisis from 1998 to 1999, to launch humanitarian, relief and development projects over three phases for the people of Kosovo, at a cost of AED130 million.
Follow Emirates 24|7 on Google News.