ERC delivers more assistance to 14,000 Yemenis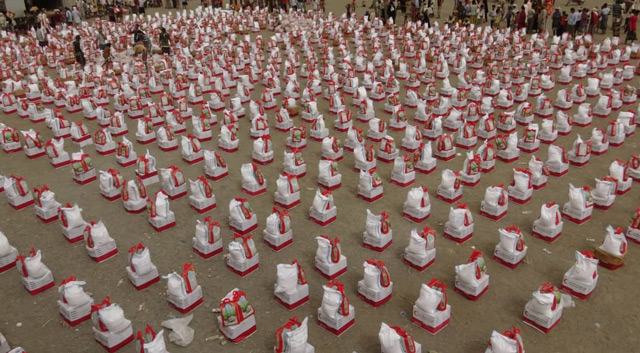 The Emirates Red Crescent, ERC, has delivered 2000 baskets of essential food items to people in the Matina area of Yemen's Red Sea Coast District of Tahita, as part of the UAE humanitarian response to provide urgent food assistance to people in liberated areas in the Governorate of Hodeidah and to alleviate their suffering.
The aid distribution is part of a land, sea and air bridge launched by the UAE with the prime goal of bringing life in the liberated areas in Hodeidah Governorate back to normal.
Saif Al Dhaheri, ERC Representative in the Red Sea Coast, said the latest UAE aid will benefit 14,000 Yemenis and help them overcome the difficult living conditions caused as a result of a siege imposed by the Iran-aligned Houthi militia.
''People in these area are enduring deteriorating living conditions caused by the Houthi terrorist militia's practices,'' he stated.
He said that, in parallel with military operation, efforts are under way to rehabilitate educational and health facilities in these areas.
The recipients of the aid expressed their appreciation to the UAE for its humanitarian and development assistance to the Yemeni people, saying that the ERC aid workers are making strenuous efforts to help them.
The ERC continues to provide humanitarian and developmental assistance in parallel with the UAE's efforts, as part of the Saudi-led Arab Coalition, to liberate Yemen's Red Sea Coast.
The UAE aid authority has sent a relief sea bridge containing ten ships loaded with 35,000 tonnes of various food items, an airlift of 14,000 food baskets and a 100-truck aid convoy carrying goods purchased from local markets in Yemen.
Massive relief operations were carried out following the liberation of Aden, Mukalla and Mocha.
Follow Emirates 24|7 on Google News.