Etihad Airways and ERC launch new UAE Year of Giving Initiative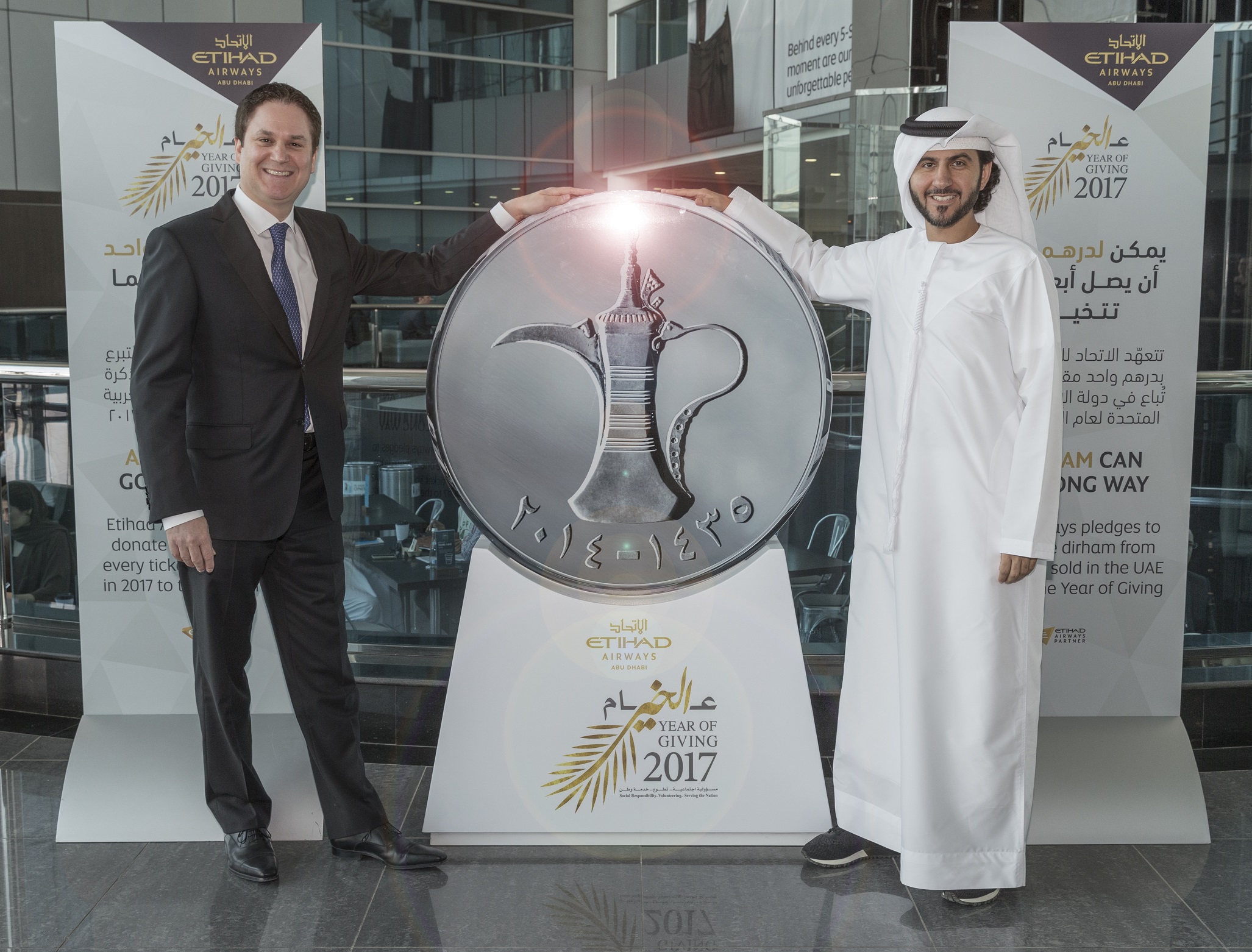 Etihad Airways today said that it will donate one dirham from every flight ticket sold in the United Arab Emirates during 2017 towards the UAE's Year of Giving causes.
The initiative is one of dozens being rolled out in the air and on the ground by Etihad Aviation Group, EAG, including offering free Etihad Cargo space for humanitarian causes, as part of efforts to touch the lives of those in need around the world.
Each month, the airline will donate all proceeds to Emirates Red Crescent's local and international projects, including the recently launched campaign 'For Your Sake, Somalia' targeting famine in the African nation. Etihad Airways' guests will also shortly be able to donate to Emirates Red Crescent during flights using a credit card.
Etihad Airways Chief Executive Officer, Peter Baumgartner, and the airline's Executive Vice President Commercial, Mohammad Al Bulooki, launched the initiative with a special Etihad Airways dirham podium, inscribed with the message 'A dirham can go a long way'.
"We are proud to embrace the Year of Giving, a remarkable initiative which truly reflects the Emirati spirit of philanthropy," said Mr. Baumgartner. "This donation is one of many philanthropic initiatives we are announcing throughout 2017, in a mission to embed giving within our corporate culture and in the way we do business."
Secretary-General of Emirates Red Crescent, Mohamed Ateeq Al-Falahi, said, "We are proud to have worked for many years with Etihad Airways. Their unrelenting commitment, whether through donations or volunteering, has been heart-warming. We will continue to work together throughout the Year of Giving to support the UAE's humanitarian mission."
The airline's Year of Giving drive is visible on its flagship aircraft, the Airbus A380, with all four engines of the double-decker displaying the Year of Giving logo to promote the national initiative overseas in Etihad's A380 destinations of Sydney, Mumbai, London Heathrow and New York.
Follow Emirates 24|7 on Google News.