Etisalat warning: 1m users face service loss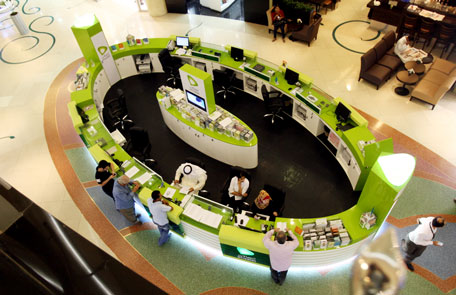 Etisalat telecommunication company has warned that nearly one million mobile phone users could lose service unless their re-register their SIM cards before the end of the first deadline on October 16.
The company, one of the largest telecom firms in the Middle East, said only around 500,000 subscribers had completed registration of their cards although it had sent alerts for registration to 1.5 million mobile phone users.
In a statement carried by Emirat Alyoum Arabic language daily, Etisalat said it would disconnect services for defaulters for three months, adding that they would be allowed only to receive phone calls.
"If they still fail to register after the deadline, their mobile phone service will be permanently disconnected," the paper said, quoting Hassan Al Abdouli, chief executive for marketing at Etisalat.
He said Etisalat had sent three text messages to each of the 1.5 million mobile phone subscribers included in the first stage of the registration process.
"We will send a final message warning them against failing to register their SIM cards…Etisalat will then disconnect their services…it also has the right to re-sell those numbers to other customers after the disconnection."
The October 16 deadline is the first of six three-month phases for more than 12 million mobile phone subscribers in the second largest Arab economy to re-register their SIM cards or face service disconnection.
Etisalat and du, the UAE's only service providers, said the move is in line with instructions by the UAE's Telecommunications Regulatory Authority (TRA) to have all mobile phone users in the country re-register their SIM cards with the aim of updating their personal data in the two companies' systems.
The two companies have already set up more than 100 registration centres through the emirates to serve customers and that they could be expanded at a later stage to meet an expected rush during the remaining registration phases.
The "my number" process has been ordered by the TRA, which oversees the telecom services in the UAE with the aim of ending malpractices resulting from Sim swap, loss, misuse or being given by their owners to other persons
ALSO READ:

4 accused of raping woman in desert outside Abu Dhabi
No-tech vs deep fried: McDonald's 'offline day' gives UAE residents tough family choice
iPhone 5 is 5 days old: Here are its top 6 defects and disadvantages
Follow Emirates 24|7 on Google News.