EU leaders to unite behind Brexit demands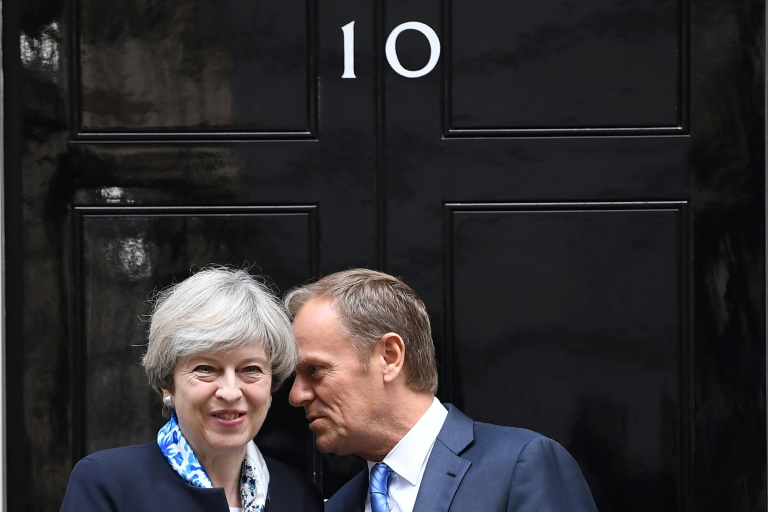 European Union leaders will give an unprecedented show of unity at a summit in Brussels on Saturday as they adopt tough guidelines for two years of Brexit talks.
The heads of the remaining 27 countries are set to demand that Britain resolves the key divorce issues of "people, money and Ireland" before any talks on a future EU-UK trade deal can begin.
The united front comes hot on the heels of a war of words between German Chancellor Angela Merkel and British Prime Minister Theresa May over the negotiations.
EU President Donald Tusk said in a letter to the leaders that "before discussing our future, we must first sort out our past" and urged them to "unite around this key principle".
In a further move that will rile London the EU is also set to back automatic membership for Northern Ireland if it reunifies with Ireland, and call for Spain to have a say over any deal that affects Gibraltar.
They will also discuss for the first time the spoils of Brexit -- the relocation of EU medical and banking agencies that are currently based in London.
All 27' united
The EU 27 have considerably toughened the guidelines since Tusk first unveiled them in March, shortly after May triggered the two-year Brexit process.
Brussels officials insisted that the EU was more united than ever on Brexit, after years of bitter internal divisions on everything from the euro and migration to how to tackle growing euroscepticism.
May's decision to call a general election in Britain on June 8, in a bid to shore up her mandate and strengthen her negotiating position, has only stiffened their resolve.
"There are issues on which member states agree and issues on which they disagree. Apparently on Brexit all 27 have the same position," a senior EU official said on the eve of the summit.
The first of the key divorce issues the EU guidelines say Britain must resolve is the fate of three million EU citizens living in Britain and one million Britons on the continent, and what happens to their rights to work and claim benefits abroad.
The EU 27 also call for action to avoid a "hard border" between the Republic of Ireland and the British province of Northern Ireland, amid fears that Brexit could undermine the peace process.
But the most touchy issue of all could be Britain's exit bill, estimated at around 60 billion euros ($65 million), which mainly covers financial commitments made by the bloc while Britain was a member.
The EU guidelines say that only when "sufficient progress" has been made on these issues can trade talks begin, with sources saying they hope to do that by the end of the year.
But they leave the criteria vague and so at Saturday' summit the leaders will have their first serious discussion on what exactly constitutes sufficient progress.
- 'Line up to oppose us' -
The summit is nevertheless set to be "short" -- a far cry from the bloc's famed all-night marathons on the Greek debt crisis, the senior EU official said.
Actual Brexit talks are not expected to begin until after the British election, although the EU is set to give an official mandate to its chief negotiator Michel Barnier on May 22.
The run-up to the summit was marked by bad tempered exchanges between Merkel, Europe's most powerful leader, and May.
Merkel warned Britain not to have any "illusions" about getting a deal that would give it the same benefits as being a member of the EU, a single market that currently comprises 500 million people.
But May hit back saying that "our opponents are already seeking to disrupt those negotiations -- at the same time as 27 other European countries line up to oppose us."
While the EU denies it is trying to punish Britain as an example to other countries that might be tempted to leave, Brussels has a close eye on elections in France where anti-EU run-off candidate Marine Le Pen has vowed to hold a "Frexit" referendum.
Follow Emirates 24|7 on Google News.