Expo 2020 Dubai and Jebel Ali Free Zone team up to offer Emirati youth more work training opportunities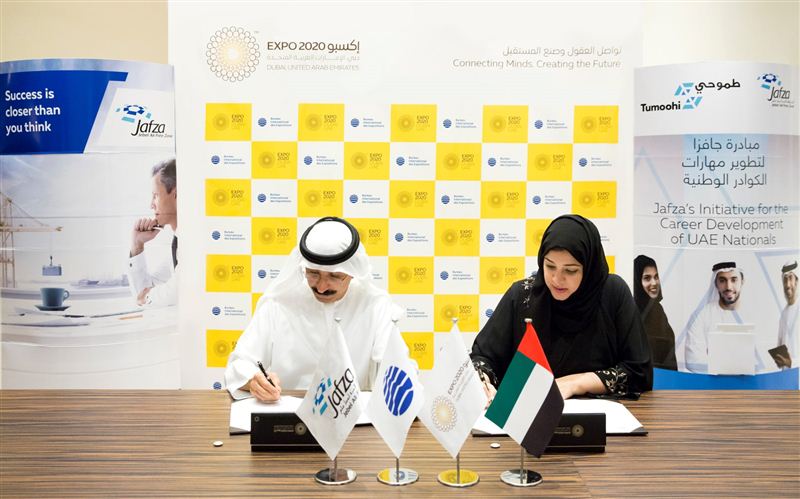 Expo 2020 Dubai's successful Apprenticeship Programme is being integrated with a corresponding scheme at Jebel Ali Free Zone (Jafza) to give even more young Emiratis the chance to take a positive first step on the career ladder.
The Memorandum of Understanding means the tried and tested structure and content of the Expo programme will be absorbed into the existing Tumoohi ('My Ambition' in Arabic) scheme run by Jafza, the UAE's flagship trade and logistics hub
The aim is to provide an enhanced programme of more apprenticeship options that can boost the careers of increasing numbers of UAE graduates by combining knowledge and expertise from the on-the-job training they receive at the companies they join.
Her Excellency Reem Al Hashimy, UAE Minister of State for International Cooperation and Director General, Dubai Expo 2020 Bureau, said: "Expo 2020 Dubai is about collaborative thinking – 'Connecting Minds, Creating the Future' – and we can help achieve this by working with the key stakeholders who share our ambition and empowering our youth with the skills that will help them shape a wonderful future for themselves.
"This will benefit not only the young people involved, but also our country as we move to an increasingly diversified, knowledge-based economy here in the UAE.
Youth are our future and we need to equip them with world-class skills."
Based on international best practice, the Expo 2020 Apprenticeship Programme has included a series of intensive and varied learning modules, as well as on-the-job experience at Expo 2020 Dubai departments, including commercial, communications, events, procurement and real estate development.
Apprentices have also benefited from expert mentorship and leadership coaching from members of the Expo 2020 Dubai team.
Jafza's Tumoohi scheme follows a similar model, offering Emirati graduates in-house training and job placements within the free zone's vast network of companies.
A signing ceremony for the Memorandum of Understanding (MoU) between Expo and Jafza was attended by Her Excellency Al Hashimy and Sultan Ahmed Bin Sulayem, Chairman and CEO of DP World Group, which is the parent company of Jebel Ali Free Zone and one of Expo 2020 Dubai's Premier Partners.
As part of the agreement, a number of Tumoohi trainees will complete job placements at Expo 2020 Dubai, working alongside industry experts from across the world in various departments.
This initiative underlines Expo 2020 Dubai's ambition to work closely with all its partners – in this case DP World Group – beyond the purely commercial terms of their agreements.
Sultan Bin Sulayem said: "This is a significant step towards realising theTumoohi scheme.
We want to create a large talent pool of young nationals with the right technical skills and experience to meet the diverse needs of the UAE across the private and public sectors.
"So I am delighted that the collaboration with our colleagues at Expo 2020 Dubai offers our trainees there a once-in-a-lifetime opportunity to work on a global project of such diversity and scale.
"We share the same objectives in creating lasting value for all our stakeholders and building a positive legacy for future generations.
The skills and experience they pick up at Expo should stand them in very good stead for their future careers."
Najeeb Al-Ali, Executive Director, Bureau Expo 2020 Dubai added: "We are proud and happy to see the way the current team of Expo apprentices has developed, both personally and professionally, and they continue to make a meaningful impact on the work that is taking place behind the scenes at our offices.
"We look forward to welcoming Tumoohi trainees, seeing not only how we can support them in their development, but also the valuable contributions they can make to the first World's Expo in the Middle East, Africa and South Asia (MEASA) region."
The Expo 2020 Dubai Apprenticeship Programme was launched in April 2016 with more than 2,700 graduate applications.
A shortlist of 150 young people participated in an innovative assessment process, which evaluated applicants on skills that are relevant in today's workplace, including creativity, communication and teamwork.
A final 27 candidates were then welcomed to the Expo site office in Dubai South as the nine-month programme began, becoming valuable members of the team and making a meaningful contribution in the build-up to the event.
"It has been a privilege to work alongside and learn from the world class team that has been assembled at Expo," said one trainee, Aysha Al Nuaimi.
"I've learned so much in a short space of time in a wide variety of areas. All the apprentices here know that this is a unique opportunity to benefit from an event that is so important for the UAE. We are determined to make the very best of it while helping showcase what our country has to offer the world."
The current group will graduate from the programme this summer, with a proportion already confirmed to continue as fully fledged Expo employees.
Follow Emirates 24|7 on Google News.