Expo 2020 Dubai celebrates Earth Hour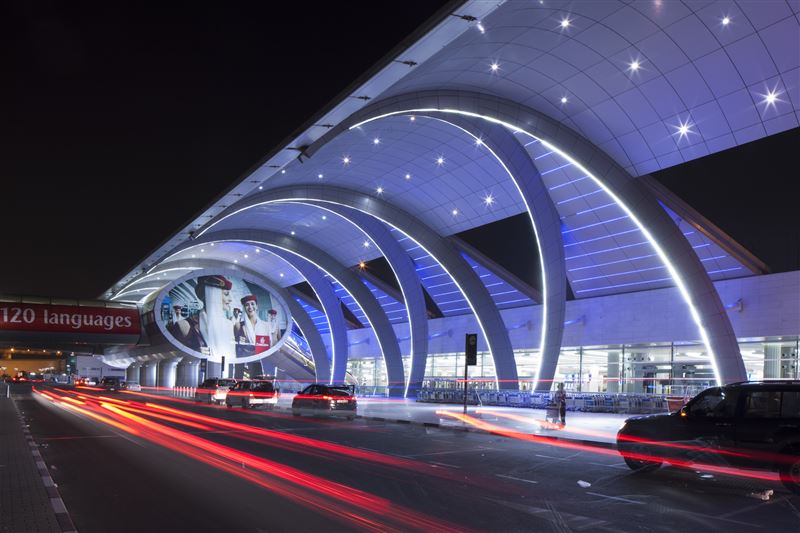 As well as switching lights off for Earth Hour 2018, Expo 2020 Dubai employees came together to assemble 210 solar-powered lights from Beacon of Hope UAE.
Founded by Sheikha Shamma bint Sultan bin Khalifa Al Nahyan in 2016, Beacon of Hope UAE has distributed more than 6,800 easy-to-assemble reading lights to children in impoverished areas around the world.
The lights assembled by the Expo 2020 team will allow children to keep reading even when no other electricity is available, because light and opportunity go hand in hand.
Dubai Airports to observe Earth Hour
Dubai Airports will join millions of people around the world to observe the Earth Hour on Saturday evening by switching off all non-essential lights across the terminals and concourses at Dubai International (DXB) and Dubai World Central (DXB) for an hour.
The hour-long switch off is limited to non-essential areas at the airports and will not affect the safety and comfort of customers and the normal efficiency of operations. While the campaign will have direct outcome in terms of energy savings, it is also intended to help create awareness about the importance and benefits of energy conservation among the thousands of employees of Dubai Airports and its service partners that work at the facility, and the hundreds of thousands of passengers that use the terminals daily.
RTA supports Earth Hour by switching off 1433 streetlights
The Roads and Transport Authority, RTA, in Dubai is taking part on Saturday in the global event Earth Hour 2018 celebrated in March each year, in conjunction with the Dubai Electricity and Water Authority, DEWA.
This year's event is held under the theme "Connect2Earth" under the auspices of the Dubai Supreme Council of Energy. The RTA says that celebrating the event is part of its keenness to play an active role in achieving sustainable development in Dubai, and raise the profile of the Emirate in environmental sustainability and energy saving.
Nasir Abu Shehab, CEO of Strategy and Corporate Governance Sector cum Chair of Energy and Green Economy Committee at the RTA, said, "The RTA has charted out a plan for this year's Earth Hour events, which will be held today from 08:30 pm to 09:30 pm.
Events include switching off 1433 streetlights in the Business Street, Al Saadah Street, Boulevard Street (Burj Khalifa), Al Mamzar Beach Street (from Boats Slipway to Al Mamzar Park), the parking lot of Shandagha Heritage Village, and Al Khaleej Street (from Elderly Home at Mamzar to Al Mamzar Park). Activities will also include local roads opposite to the sea at Jumeirah; which will save about 683.7 kilowatts.
"As part of the Marina Promenade celebrations at the Business Bay, the RTA will run several activities including children games and contests, hydrogen-powered taxi, and a model of the bus-washing water treatment plant. Two buses will be deployed to lift participants from the Business Bay MS to the site of the event," he added.
"Lights and some air-conditioners will also be turned off at RTA Head Office, Main Customers Happiness Centre at Umm Al Ramool, Public Transport building in addition to Al Rawiyya and Al Khawaneej stations, and Jebel Ali Bus Depot. Lights will also be switched off on the 5th floor of the Parking Terminal of Rashidiya MS, premises of the Dubai Taxi Corporation and employees accommodation.
Several Metro Stations will switch to the maintenance mode, and some conveyor belts at metro stations will cease operation. The overall saving resulting from the switching off streetlights and facilities of the RTA is expected to be in the order of 10,000 kilowatts in one hour only. (WAM)
Follow Emirates 24|7 on Google News.