Expo 2020 Dubai takes part in ADSW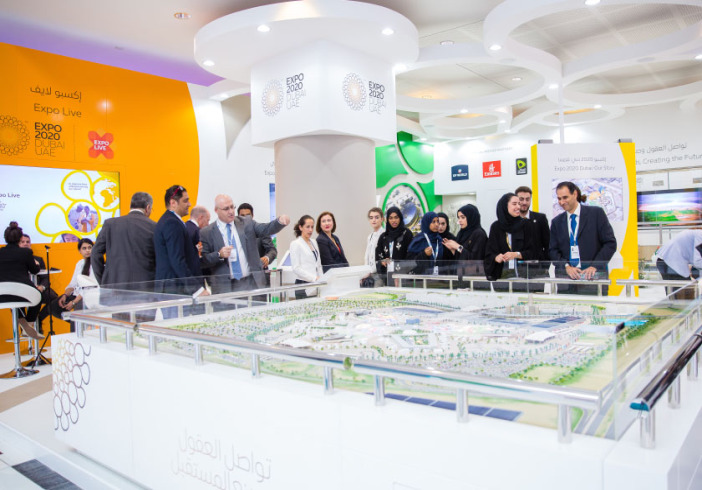 Expo 2020 Dubai today unveiled the details of its overall strategy to help accelerate momentum towards a greener and cleaner future, showcased by a Sustainability Pavilion that is envisioned as an inspiration for a new generation of guardians of the earth's welfare.
Designs showing the vision for the structure, which will be located in the heart of the 4.38 sq. km. Expo 2020 Dubai site in Dubai South, and other innovative projects at the heart of its mission, are being exhibited for the first time at Abu Dhabi Sustainability Week, ADSW, at Expo's exhibition stand.
The pavilion is expected to be a magnet for Expo 2020 Dubai visitors, especially children and youths, interested in science and best practice sustainability, a key theme of the World Expo. It will continue its immersive and educational mission as a science 'Exploratorium' after Expo's April 2021 closure.
Expo 2020 Dubai's ambitions align closely with those of the UAE, which has elevated the issue of sustainable progress to become a core pillar of government strategy as seen in the UAE Vision 2021, and numerous sustainability initiatives within the country.
Reem bint Ibrahim Al Hashemi, Minister of State for International Cooperation and Director-General of Dubai Expo 2020 Bureau, said that the Sustainability Pavilion's structure and its exhibitions were only the building blocks of a more important overall ambition to make a fundamental change to the mindset of its visitors, the nation and the region in which it is hosted.
"Sustainability is at the heart of this World Expo and the legacy we aim to leave behind for the region. Our Sustainability Pavilion will play a major part in this effort, and will serve as an 'oasis' for sustainable and innovative experiences and practices, linking to the strategy of the UAE government to be a leader in sustainability on a global scale," she said.
"With the world's population growing at such a rate and its consumption of our natural resources expanding ever faster, we need all the converts to a more sustainable way of living we can find and we should start with the young.
"So we see our mission at Expo 2020 Dubai as nothing less than a moral obligation to ensure that these touchpoints of education and inspiration are meaningful, lasting and relevant to the 25 million visits we hope to attract."
Follow Emirates 24|7 on Google News.