Expo 2020 Dubai to optimise use of next-generation digital applications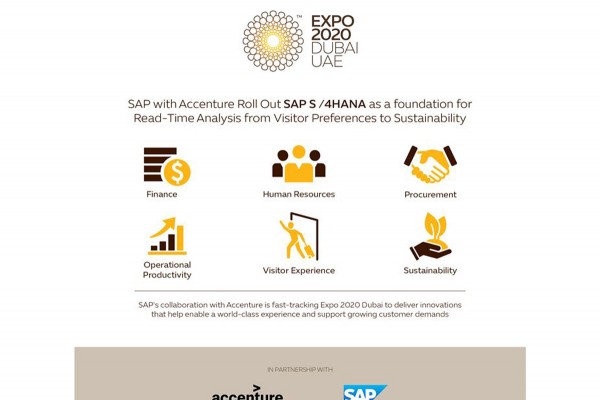 Accenture, in collaboration with SAP, has implemented SAP S/4HANA for Expo 2020 Dubai that will provide the expo with a foundation for data-driven insights, from visitor preferences to sustainability.
The new digital platform transforms back-office and visitor-facing capabilities for the global mega event, which is expected to host 25 million visits over six months from October 2020.
Expo 2020 Dubai went live with SAP S/4HANA in only seven months. It is a real-time enterprise resource planning suite for digital business, built on an advanced in-memory platform, SAP HANA , and offers a personalised, consumer-grade user experience with SAP Fiori.
The new platform will allow Expo 2020 Dubai to better source its needs, manage financials, and enlist talent instantly and seamlessly. The platform will later support visitor-facing capabilities that can transform the experience for millions of visitors from around the world.
"Expo 2020 Dubai will provide a platform where people from around the world can come to experience innovative and exciting technology," said Mohammed Al Hashimi, Senior Vice President of Information and Communication Technology at Expo 2020 Dubai. "This digital platform will provide Expo 2020 Dubai with a fully integrated real-time business solution to optimise Expo's processes, increase productivity and reduce turnaround time."
Gerardo Canta, Accenture's Communications, Media and Technology lead for the Middle East and Turkey, said, "Data has the power to disrupt by shining a light on new insights that can improve the visitor experience for Expo 2020 Dubai. Our work with Expo 2020 Dubai and SAP is built on innovative ideas and solutions that will not only help make internal processes more effective, but also uncover new opportunities to attract visitors and amplify their experiences on-site."
"Expo 2020 Dubai will have a real-time digital core, with the streamlined technology infrastructure that can drive innovation and deliver unique participant and visitor experiences," said Hoda Mansour, Executive Sponsor of Expo 2020 Dubai at SAP, the event's Premier Innovative Enterprise Software Partner. "SAP S/4HANA can connect to big data, the Internet of Things and business networks – enabling innovations such as autonomous vehicles, smart mobile networks, and digital payments across the Expo 2020 Dubai site."
Follow Emirates 24|7 on Google News.