Fastest elevator: Taipei 101; Burj Khalifa 3rd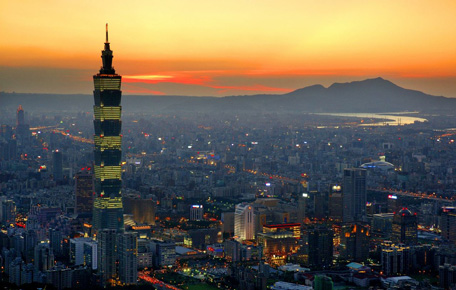 The fastest traveling elevators in the world are not in Burj Khalifa, the tallest tower in the world, but the tower of superlatives does have the world's fastest "double-decker" elevators, says Emporis www.emporis.com.
Click to see gallery of Top 10 fastest elevators in the world
The international building-data provider states though the engineers working on the design of Burj Khalifa first thought about installing triple-decker elevators, which would have been the first in the world, double-decker elevators were installed having a capacity of 12 to 14 persons per cabin.
2. Yokohama Landmark Tower Copyright: Mathias Beinling
In terms of speed of elevators, Burj Khalifa, 828-metre high, shares the third position on the list with maximum elevator speed of 600 metres per minute, or 36kmph.
"What is more, the double-deckers' passengers are also able to travel the longest distance currently possible in an elevator, exiting after a ride of 504 metres at the world's highest stop, 638 metres up the building," Emporis stated.
Burj Khalifa is home to 57 elevators and eight escalators with the building service/fireman's elevator having a capacity of 5,500 kilogrammes and is the world's tallest service elevator, according to Emaar Properties website.
3. Burj Khalifa Copyright: Axel Schmies
Topping the list is Taipei 101.
Costing over $2 million each, the two elevators in the tower travel at a speed of 1,010 metres per minute, or 60 kilometres per hour (km/h).
There are 61 elevators in the 501-metre high skyscraper.
Following Taipei 101, is the elevator in Japan's Yokohama Landmark Tower, 296 metre high, which manages a speed of 750 metres per minute, or 45 kmph.
It only takes 40 seconds to travel from the second to the 69the floor of the tower, which has a total of 79 elevators.
The race for the world's fastest elevators is clearly being run in Asian cities.
The elevators in Chicago's John Hancock Center are the only ones not in Asia, Emporis said.
In 2014 elevators that Mitsubishi is set to install in the Shanghai Tower will take over as the world's fastest at a speed of 64.8 kmph.
The tower itself will become the world's second-tallest building on completion.
The Shanghai Tower, Shanghai World Financial Center and Jin Mao Tower contain some of the world's fastest elevators.
"For skyscraper fans looking for spectacular elevator rides, Shanghai will be impossible to ignore," Emporis states.
Follow Emirates 24|7 on Google News.