Fierce friendly battles in petrol stations to sell DSF raffle coupons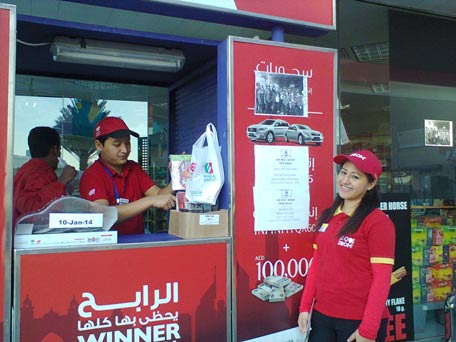 With the Dubai Shopping Festival creating millionaires on a daily basis through raffle draws and gold sales promotions, hundreds of smart salesmen and salesgirls of Zoom convenience stores are chasing customers to persuade them to spend Dh200 on an Nissan Infiniti coupon or other product bundles that makes them eligible to participate in daily draws.

At nearly 50 Enoc/Epcco petrol stations in Dubai, starting from the twin sites located on the Ajman-Ras Al Khaimah border to sites at the extreme end of Jebel Ali, smart and energetic sales teams numbering between 20 to 30 round up customers the moment they enter any of these petrol stations to fill their car tanks or buy telephone cards or coffee from the Zoom convenience stores.

Infiniti raffle coupons are disappearing from some of the petrol stations two or three days before the draw date. "We get a daily quota of 170 raffle tickets per day out of the 5,000 sold all over Dubai through selected Enoc/Eppco outlets, Global village, Gold Souq and selected malls. We finish all the 170 coupons one or two days before the raffle day. Each staff is given a bundle of 25. There is another team selling perfumes or mobile phones too," says one convenience store manager.

"This is the busiest season in our business schedule. Most of the convenience store staff and petrol station attendants are competing against each other to increase their sales turnover or to meet the targets. Each Enoc/Eppco petrol station in an area will be competing with each other, giving tempting bundle offers with raffle coupons that attract not only regular customers but even the grocers and small traders who resell them in their shops at a profit," said the manager of a busy Eppco station.

Petrol stations are allotted a minimum of 50 to a maximum of 175 Infinity coupons depending on their sales turnover.

"Some stations started selling Infiniti tickets but since they could not meet the daily target of 50 raffle coupons per day, the Infiniti tickets were moved to other places with good daily turnover," said an Eppco source.

Eppco sites in Al Qusais, which topped in sales of Infiniti raffle coupons, Etisalat/Du packages and perfumes, are vying with each other for more business.

"We have regular customers who come and buy Infiniti tickets voluntarily. One customer buys two Infiniti coupons every day throughout the 32 days of the DSF raffles. He has already bought tickets up to January 15 and will keep on buying two tickets daily," said a source in a station that topped in sales last year.

"Last year, Site 84 could sell 6,000 raffle tickets and this year the target is 1000 more. Stations were given high targets and some stations are already removed from the Infiniti sales network because they could not reach 50 coupon sales per day," said the source.

"We are selling 100 Infiniti raffle tickets per day and 200 packages of other products like perfumes and telephone cards. Some sites have a target of selling 7,000 Etisalat/Du packages. For Etislat phone card worth Dh25, bundled with several discount coupons from KFC, Chicking, McDonalds or others, customers pay Dh 35 which includes a premium of Dh 10. The salesman or salesgirl who sells a perfume packet for Dh50 gets a commission of Dh7 and the site supervisors and site in charge too get their share of the commission," said one source.

"Last DSF, some salesmen and salesgirls made an extra income of Dh5,000 and some even more," said another supervisor of a busy Enoc/Eppco station in Dubai.

"I have already sold 78 Infinity raffle coupons and one Lebanese customer has already become a millionaire. He was shivering after seeing his name and coupon number displayed in the Eppco station. Sometimes we have to persuade them to buy raffles, but many customers, especially Indians and Pakistanis, are coming voluntarily," he added.

"The sales team have unwritten demarcation of sales territories and sometimes there are arguments and disputes if the territory is crossed," said another Filipino salesman.

"Last year the perfume company was giving incentives like laptops, mobile phones, digital cameras etc. This year, they are giving cash incentives at the rate of Dh7 per bundle of three perfume bottles costing Dh 50. Many of them compete against each other to attract customers and salesgirls seem to have an upper hand in luring customers," added another.

"This is my first DSF experience and I am excited about selling raffle coupons. I am doing straight duty to get maximum daily sales and I hope to make an extra income for my family," said a Filipina sales girl in Al Wasl.

According to her, many Asian customers are keen to buy raffle tickets, but they have to persuade people from other nationalities to buy them.

The Nissan Grand Raffle is a key DSF attraction that is organised in collaboration with AW Rostamani Arabian Automobiles, the flagship company of AW Rostamani Group and a DFRE Strategic Partner.

The Nissan Grand Raffle will see one lucky winner driving home every day in one of the 14 top models from the brand's eclectic line-up of cars and SUVs ranging from popular Nissan SUVs including Pathfinder, Armada, Murano, Xterra, Patrol, Qashqai and Juke and sedans such as the Maxima, Altima, Sunny and Tiida Micra hatchback and Sentra and the stunning sports car 370Z.
Follow Emirates 24|7 on Google News.