Filipino honoured for saving Emirati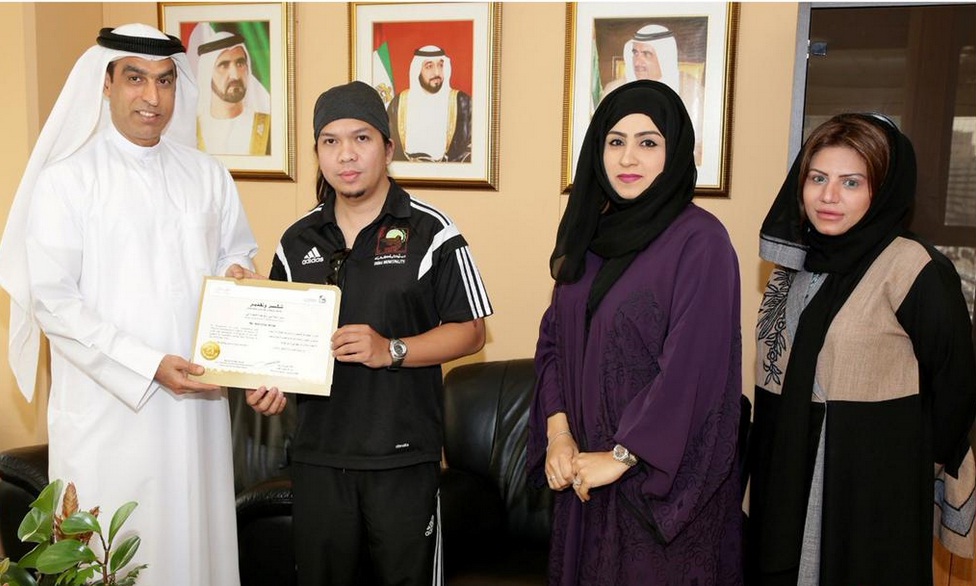 A Filipino worker at the Dubai Municipality was honoured for stepping up to help a person in pain.
Melchor Guardian, working at Dubai Municipality since 2005, stepped forward to help a swimmer who accidentally dislocated his knee while swimming in the municipal pool at Paljdav Club.
"When I reached the spot, I saw the man (an Emirati) unable to move his lower part of the body out of the pool. He was in pain, and his friends, who were swimming with him, were unable to help him out," he told Emirates 24|7.
Melchor, who works as a physiotherapist in the club, first checked if the swimmer had fractured his leg.
"I could see that he had injured his knee (as it had moved out of position), but I wanted to establish that he had not broken it. When I stabilised the knee, I figured that he had only dislocated it."
While they were waiting for the ambulance, Melchor asked the swimmer if he could try and move the knee back into position. "I told him I would stop if it hurt him. He let me, and I succeeded in moving it into position. He let a sign of relief. Until then he was suffering badly."
A humbled Melchor claims this is what he does every day, and it was nothing out of the ordinary.
"I was told that he was able to walk after receiving basic first-aid in the ambulance."
When honouring the worker, Ismail al-Banna, director of corporate marketing department, said the recognition highlighted how he stepped up to help someone.
Follow Emirates 24|7 on Google News.