First world drone prix to be held in Dubai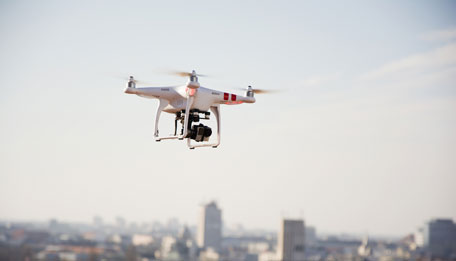 The World Organisation of Racing Drones (Word) has announced that the World Drone Prix Dubai 2016 will be held under the patronage of Sheikh Hamdan bin Mohammed bin Rashid Al Maktoum, Crown Prince of Dubai, on March 11 and 12 at Skydive Dubai.

Sheikh Hamdan released a video on Instagram featuring a McLaren supercar competing against a racing drone on an obstacle course through the streets of Dubai, promoting the upcoming event as 'one of the most anticipated races'.

There will be over 100 drone racing teams from across the globe attending. Following a series of pre-qualifying events held in in Los Angeles, Seoul, Berlin and cities across China this year, in addition to an 'American Idol'-style video-qualifier programme, teams will arrive in Dubai to compete for 32 top spots for the grand prix race.

All teams will compete in two days of qualifying races on March 7 and 8, after which the top 32 teams will be selected to advance to the final World Drone Prix races held on March 11 and 12.

The World Drone Prix event will mark the first drone racing event in an annual calendar of global drone racing competitions organised by the World Organisation of Racing Drones to promote the advancement of drone sport and drone technology.

Word is the first official regulatory authority for the sport of drone racing, joining together a community of drone racers, fans, and manufacturers from around the globe, to advance a sport that is unlike any other, and the first sport to truly merge technology advancement with human capability.

The World Drone Prix will be held at Skydive Dubai on March 11 and 12, giving spectators an unparalleled opportunity to witness the largest competition between unmanned aerial vehicles, navigating a custom-built course at speeds of over 100km/hr.

Prize money

Sponsored by Skydive Dubai, X Dubai, Dubai Calendar and Road and Dubai's Road Transport Authority, the World Drone Prix boasts a total prize money of $1 million. Prize money will be distributed across up to 19 categories, including: Best Track Team, Best Lap Time, Best Free-style Team and Best Constructor. A Best Team award will also be granted, based on crowd voting.

The World Drone Prix will be largest drone racing event ever held, many times larger than any previous race, and will be the first drone racing event to feature a custom-built, physical track.

The World Drone Prix event is also the first drone racing event to recognise the drone racing teams supporting the drone pilot.

Drone racing is one of the fastest-growing and most inclusive sports today, and is open to participants of all ages, nationality, gender and physical ability. The World Drone Prix event embraces this spirit of inclusiveness and is committed to providing a family-friendly experience with activities for children of all ages.

"We are extremely proud and thrilled to have all the international and local competitors race in Dubai, and are looking forward to introducing the public to a new sport that is open to participants of all ages, genders and abilities." said Omar Sultan Al Olama, Secretary-General, Word, in a press release.

Ryo Rex, Founder of Aerial Grand Prix and professional drone race organiser expressed his enthusiasm for the event saying "We are very excited to see the efforts of this project come to fruition in a unified vision for the future of aerial racing, and are honoured to be a part of the World Drone Prix. We have no doubt the world will see what the future holds on March 11."

The UAE has also previously demonstrated global leadership for the advancement of drone technology with the launch of the Drones for Good Award. Launched in 2015, the Drones for Good award aims to find the most innovative and creative ways drone technology can help positive humanitarian initiatives. Last year's competition attracted over 1,000 submissions from 165 countries. The launch of the World Grand Prix will only encourage further technology enhancement which will help support this cause.
Follow Emirates 24|7 on Google News.