Floating resorts on Dubai waters: What you need to know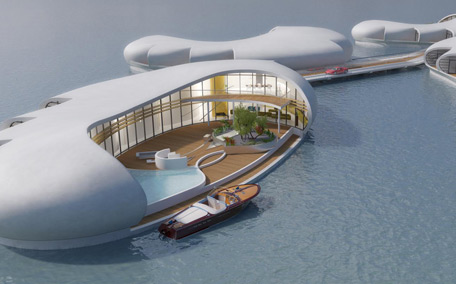 With two companies having already launched floating homes in Dubai, a Netherland-based company has joined the bandwagon, unveiling floating homes that offer comforts of a six-star super luxury beachfront resort.
New Living on Water (NLW) will showcase its organic-shaped floating residences at Cityscape Global next month, and is expecting regional sales worth $50 million over the first 12 months.
"A lot of people nowadays live in very densely populated areas, and for most of them this is no problem in everyday life," NLW's managing director and co-owner, Menno de Roos in a statement.
"But the need for some privacy and the inner need of being connected to nature has always been with us, and that's what we're offering. Our newly-developed floating residences guarantee both the privacy and nature that people are looking for, as well as the comfort of being part of a six-star super luxury beachfront resort.
"They were developed for a very small niche-market, and designed with sustainability in mind in order to create mutual respect between humans and environment. Renewable energy sources are used as much as possible."
The floating homes have been developed by NLW in cooperation with CIG, an industrial company engaged in shipbuilding, constructional design and production for complex architectural projects and the renewable energy industry worldwide.
According to company website, the residence consists of several floors and is accessible by boat (though can optional be linked to the land with a floating jetty). The basement has a double floor, while the living area consists of four bed and bathroom combinations. The dining room with balcony is situated on the first floor and on top of the dwelling lies a curved sanded, polished and nautical coated steel roof, provided with high-quality insulation on the inside.
Floating Seahorse
Kleindienst Group, which has already unveiled floating seahorse (floating home), will begin handing over the unit to its owners by October 2016.
"We will have the first 50 floating seahorses completed and handed over in October 2016 with the number increasing to 100 by year-end," Kleindienst Group Chairman Josef Kleindienst told Emirates 24|7 during the tour of the first prototype on The Heart of Europe project on The World islands.
The floating seahorse is a marine style retreat (a boat without propulsion) and will have three levels: one underwater, one at sea level and an upper deck.
Floating Islands
In June 2015, Kuwait-based Oqyana Real Estate and Amrillah Private Islands (an investment vehicle set up by Dutch Docklands, a floating-developments specialist) said there will be 33 luxury floating private islands at Oqyana World First on The World with each having a garden, pool and beach.
Completely stable on the water, the base of the island is built to last for far over 100 years and will create a new underwater habitat for sea life, the company states, adding, it is building similar islands in Maldives and in Miami in the US, the company said.
Follow Emirates 24|7 on Google News.