Fog disrupts 60 flights in Abu Dhabi; Mercury set to dip further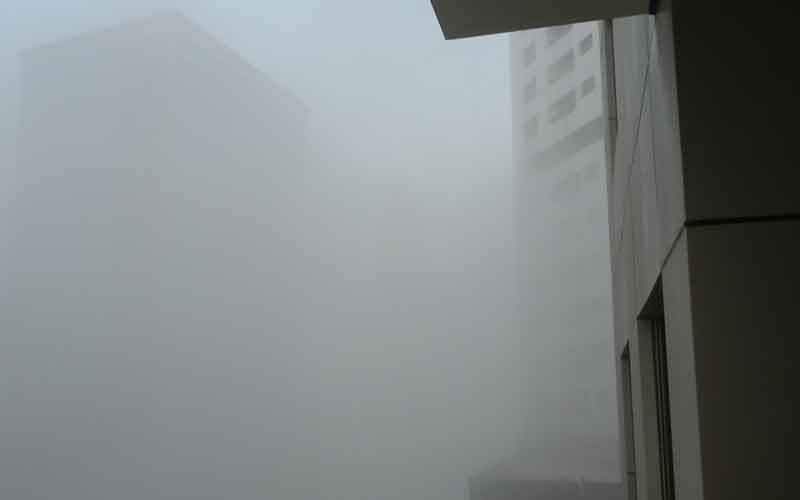 The UAE's morning fog continues to disrupt life. The national weather bureau has forecast temperatures to drop further in the coming days.
The National Centre for Meteorology and Seismology (NCMS) has warned of low horizontal visibility due to fog in the emirate of Abu Dhabi and its suburbs, and on Abu Dhabi-Dubai and Abu Dhabi-Al Ain roads and some of the western coastal areas and inland.
In a statement on Monday, NCMS also warned of sea activities due to severe disturbance.
Motorists were urged to take all necessary precautions.
Meanwhile, Abu Dhabi Airport partially shut down due to severe fog on Monday morning. Fights from all major destinations have been diverted to other airports.
According to information made available by the airport's flight tracking system at least 60 flights have been so far either diverted or cancelled.
Airport has blamed thick cover of fog for the disruption of service.
Flights from all destinations such as Australia, Switzerland and India including all GCC countries were affected.
Etihad airways flights EY455A from Sydney that was scheduled to land at 5.35am managed to arrive only at 9.52am and EY052A from Geneva that was scheduled to land at 6am landed at 10.12 am.
EY461A from Melbourne scheduled toarrive at 6.25am landed at 10.13am.
Cold wave to bite harder in UAE
There will be no respite to the cold wave sweeping the UAE as forecasters expect temperatures to dip further in the coming days.
According to the national weather bureau the Northern Emirates could see some rains while the skies would get partly cloudy at times across the Emirates.
Humidity is also likely to increase leading to foggy mornings. Monday morning saw near-zero visibility and police and road transport authority have cautioned motorists to drive carefully.
The morning temperature at Abu Dhabi airport was at 11.9 degrees Celsius with very minimum visibility and variable wind speed.
However, flights to and from various airports in the UAE continued to operate normally.
"So far we have not faced any delays today. Yesterday there were a few flighs that arrived late. The flight from Bangalore landed almost three hours late," said an official at the Sharjah airport.
The UAE has been experiencing a cold snap. The Jais Mountain in Ras Al Khaimah has been covered with snow due to drop in temperatures to below zero degrees Celsius.
Meanwhile the newly installed fog monitoring stations by the Dubai Municipality has been extremely useful as alerts are relayed live to operations centres of Dubai Police and Coast Guards, enabling them warn drivers through digital signboards and radio messages.
Foggy mornings have resulted in major accidents in the past. In 2010 In 2010, poor visibility claimed the one life and injured 40 others in Jebel Ali.However, no untoward incidents have been reported so far this year.
Follow Emirates 24|7 on Google News.