Food prices poised for rise soon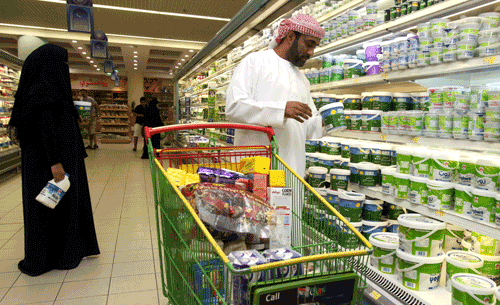 Consumers in the UAE will have to pay more for sugar, milk and other foodstuffs shortly after the ministry of economy approved a request by suppliers to raise the prices of some products, a local newspaper reported on Friday.
The ministry's higher committee for consumers' protection considered the request at its meeting last week and decided to endorse the rise, Alkhaleej said.
"The committee will inform suppliers next week of the decision reached at its meeting held on December 30….Alkhaleej learned that the committee agreed to the request of the suppliers to raise the prices of some essential and non-essential consumer products," the paper said.
It said the hike, which could be enforced next week, would involve the price of sugar, milk, cooking oil, poultry, spices and other food items. But it added that the increase would be "small and would not put a big burden on consumers."
The move followed approval by the committee of a request by suppliers and manufacturers to raise the prices of soft drinks by 25-50 per cent.
High food prices allied with a surge in rents, a weakening in the US dollar and other factors to push up inflation in the UAE to a record high annual rate of 12.3 per cent in 2008 before it plunged to around 1.5 per cent in 209 because of a reversal of that situation following the global fiscal distress. Inflation is expected to have edged up slightly in 2010 but remained below two per cent.
Rents and food account for as high as 40 per cent of the UAE's consumer price index and the sharp downturn in the real estate sector following the 2008 crisis was the main factor that drove inflation down.

Follow Emirates 24|7 on Google News.