France confirms commitment to join growing band of nations to sign up for Expo 2020 Dubai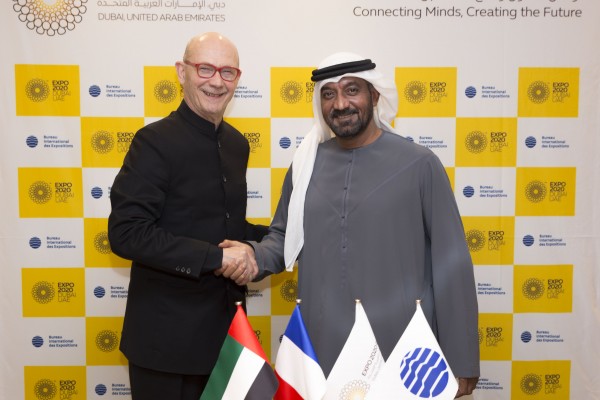 France, which gave the world one of the most enduring symbols of World Expos, the Eiffel Tower, has confirmed its commitment to Expo 2020 Dubai, joining a growing number of nations who have publicly announced their participation.
According to a press statement from Expo 2020 Dubai, the UAE and France share a history of strong bilateral ties and these close links were further strengthened today when France officially confirmed its participation in a letter from French Prime Minister, Bernard Cazeneuve, addressed to Vice President, Prime Minister and Ruler of Dubai, His Highness Sheikh Mohammed bin Rashid Al Maktoum.
The letter was delivered to His Highness Sheikh Ahmed bin Saeed Al Maktoum, Chairman of the Expo 2020 Dubai Higher Committee and Chairman of Dubai Civil Aviation Authority, by Pascal Lamy, French delegate to the 2025 World Expo.
Sheikh Ahmed said, "France, of course, has staged several Expos, including in 1889 when Gustave Eiffel's famous tower was unveiled to the world. That lasting mark on humankind is a hallmark of World Expos and we are working hard here in the UAE to ensure that our first to be held in the Middle East, Africa and South Asia, MEASA, region can be similarly impactful."
Through its main theme, 'Connecting Minds, Creating the Future', Expo 2020 will provide a platform to encourage creativity, innovation and collaboration. This is underpinned by three interlinked subthemes, Opportunity, Mobility and Sustainability.
Known as a hotbed of creativity, France remains a leading country in global innovation, with 10 French entities ranked in the Thomson Reuters Top 100 Global Innovators. The Expo is particularly close to the heart of the French people as the country's capital, Paris, is home to the Bureau International des Expositions, BIE, the intergovernmental organisation responsible for overseeing and regulating all international exhibitions. France has also bid to host the World Expo in 2025.
Lamy said, "France is proud to have presented its candidature to the World Expo 2025 and has already made important steps to build a strong and coherent project, showing its will to revive its historical ties with the tradition of the World Expos.
"In that perspective, working closely with the inspiring project of Expo 2020 Dubai will definitely help France succeed in building and promoting its 2025 World Expo project."
France and the UAE have worked on several large projects in recent years, including the Paris-Sorbonne University Abu Dhabi and Louvre Abu Dhabi, reflecting both countries' focus on the importance of education and culture for our youth.
The UAE is also home to an estimated 35,000 French nationals and more than 700 subsidiaries of French companies. Bilateral trade between France and the UAE reached US$5 billion in 2016 and the UAE is France's second-largest export destination in the Gulf, with exports mainly comprising food, aeronautics, consumer luxury goods, and electrical and mechanical equipment.
More than 265,000 French tourists visited the UAE last year and there is a wide variety of direct flights available between the UAE and a number of French cities, including Paris and Lyon.
Follow Emirates 24|7 on Google News.