Gitex: Buy in Dubai, delivery in India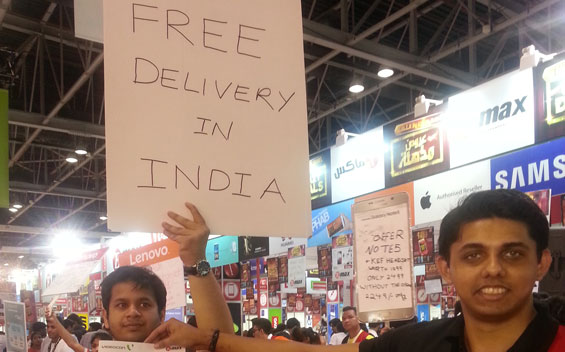 No more standing in long queues at airports to get your swanky flat-screen telly evaluated and the duty on it calculated before you can step out and gift it to your family back home.
Here's some good news for Indian expats.
Gitex Shopper offers a stress-free solution to transport new TV sets to your family back home and cuts out the Indian customs duty.
"Pay for a flat-screen TV set here, and have it delivered in India for free," announced retailer E Max.
A range of Videocon TV sets are lined up for the offer.
The retailer throws in free home delivery and installation, and two years extended warranty in India. That's not all, there's also the promise that the TV will be delivered within 14 days of the booking.
The retailer also claims the pricing is "up to 30 per cent lower than in India".
A sales agent informed the offer is valid on 32inch, 39inch, 50inch and 55inch LED sets.
"The 32inch LED is priced at Dh899 and Dh1,099. The 39inch LED is priced at Dh1,399 and Dh1,599. The 50inch LED costs Dh2,299. And, the 55inch LED is priced at Dh3,299."
While the 32inch is bundled with a KenStar steam iron, the 39inch is pitched with KenStar mixer grinder. The 50inch and 55inch come with KenStar induction cook top.
The offer is also extended to refrigerators, air-conditioners and washing machine.
The washing machines are priced Dh549, Dh899 and Dh1,099.
The air-conditioners are priced Dh1,749, Dh1,699 Dh1,499 and Dh1,399, based on their special features.
The 610 litre double-door refrigerator is Dh3,499, while the 255 litres direct cool refrigerator is at Dh1,049.
LIVE BLOGGING by Team Emirates 24|7
By: Sneha May Francis, Meesha Kapoor, VM Sathish and Jumana Ghuloom Abbas
Follow Emirates 24|7 on Google News.