Gitex Shopper opens to bumper savings and bargains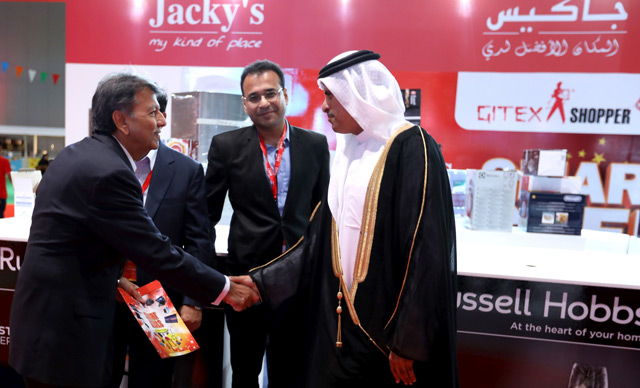 Mr Buti Saeed Al Ghandi, Second Vice Chairman of the Board, Dubai World Trade Centre Authority, officially inaugurated GITEX Shopper Spring Edition 2017 today, as the highly anticipated four-day shopping spectacular returns to Dubai World Trade Centre (DWTC) with a host of unbeatable savings and jaw-dropping prizes.
Drawing an impressive line-up of retailers and brands from around the world, the retail extravaganza will again be a magnet for shoppers, technology enthusiasts and students alike who will take advantage of the 35,000 products, bundle offers and competitions, all under one roof.
Power retailers, E-Max, Jacky's Electronics, Jumbo Electronics, Plug Ins, and Sharaf DG, are all showcasing their latest devices, gadgets and accessories, as shoppers eagerly filled their baskets with exclusive bundles and offers at the event.
Many lucky visitors went home with more than they bargained for thanks to an array of competitions and giveaways throughout the day, with this year's event boasting even more prizes up for grabs than ever before.
Visitors who spend Dh1,500 and more are entered into a prize draw to win Dh25,000 cash prize every day of the show, while 40 Dell Inspiron 11 3168 laptops will be snapped up in the Visit and Win raffle, and another 40 laptops are available in the Scratch and Win raffle. Brands at the show include Acer, Asus, Alienware, Apple, Canon, Dell, HP, Hisense, Huawei, Isukoshi, LG, Lava, Lenovo, Nestle, Nikon, Microsoft, Moto, Oppo, Samsung, Sony, Toshiba, and more.
Students visiting GITEX Shopper this week will have the opportunity to submit their best report cards to win four university scholarships offered by Amity University Dubai, with a value of Dh37,500 each.
Applicable to any Bachelor's Degree or Master's Degree offered by the University, one scholarship will be awarded to the student submitting the report card with the highest marks each day of the four day event.
GITEX Shopper customers will be offered free parking at the multi-story and Sheikh Rashid Tower parking for the duration of the exhibition.
On presenting an invoice with a minimum purchase of Dh300 from the show, DWTC will provide a voucher to validate the free parking. This is in addition to the free parking that is available opposite the Convention Gate.
GITEX Shopper Spring 2017 runs from March 29 to April 1, open from 11:00am to 11:00pm every day.
This year, tickets for GITEX Shopper will be priced at the special price Dh20 for all days and are available to buy online at gitexshopperdubai.com and Platinum List, as well as select UAE Exchange outlets.
Entry is free for children below the age of five.
Follow Emirates 24|7 on Google News.