Gutted Tamweel Tower owners still feel the 'chill'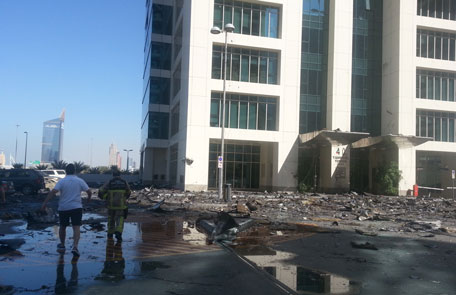 Tamweel Tower in the Jumeirah Lakes Towers (JLT) master development remains uninhabited since it was gutted by fire last November (2012), but unit owners are still feeling the chill.
Although Palm District Cooling (PDC), the provider of chilled water to the master development, has deferred payment of bills and is even offering a payment plan, unit owners claim they will have to shell out Dh4,000 to Dh5,000 per annum in fixed charges — a burden they have to carry till the tower is restored and reoccupied.
"Owners will be bound to pay the district cooling charges. We have spoken to different authorities, hoping the capacity charges will be waived off," Surendra Nayar, Board Director of the Tamweel Tower Owners Association, told Emirates 24|7.
"Legally, the company has the right to charge us because we are in a contractual agreement with them. Morally, one would question the billing, but I do not think that anybody will pity us. We will just need to pay the charges."
In a circular sent to all apartment owners in November, PDC had said: "The capacity and due consumption charges will be deferred from November 18 until you are settled back into your apartment or for six months, whatever comes first. We are happy to offer a payment plan to pay any outstandings."
It added: "During this period we are waiving the following fees on the current outstanding dues: disconnection fees and late payment fees.
"We hope these efforts will play a small part in easing some of your worries following the fire."
M Ali, an apartment owner, said: "I have to pay the capacity charge of Dh5000 pa to PDC. I was hoping that they would waive it off, but it hasn't. It's a cost that I have to bear till the building is restored."
He argued: "Even if the payment is deferred I will have to pay for it. I hope they can waive off the charges so it's not a burden on us."
The 34-storey Tamweel Tower has over 160 apartments.
Palm Utilities, the holding company for PDC, says it is bound by legal obligations and hence, cannot waive of the fixed charges.
George Saad, Director Customer Service and Billing, Palm Utilities, in a statement, sent to this website, said: "We didn't refuse owners requests, however, Palm Utilities in its role as the district cooling service provider is bound by certain legal obligations.
"All property owners as per their end-user agreements with PDC are required to pay an annual capacity charge irrespective of occupancy. We are very transparent and clear in our fee structure."
The chiller charges are categorised in two broad classifications - a "mandatory" capacity charge of Dh750 per tonne per annum, irrespective of whether the unit is occupied, and a consumption charge of Dh0.563 per tonne-hour.
If not waived, the apartment owners have sought a reduction in capacity charges. PDC has ruled out such a move.
"The capacity rate is fixed and can't be reduced.
"In line with the district cooling industry in the UAE, the above capacity charge has been determined to recover from the unit owners/developers, over a period of time instead of paying a large upfront lump-sum, the cost of investment in district cooling infrastructure that PDC has already paid," Saad said.
ALSO READ:

Emaar launches 50-storey Address Residence Sky View in Downtown Dubai



Pedal your way through Downtown Dubai: Emaar introduces bike rental programme



Maid hides boyfriend's Dh300k stolen gold in sponsor's freezer
Follow Emirates 24|7 on Google News.