Habtoor is 'Person of the Month'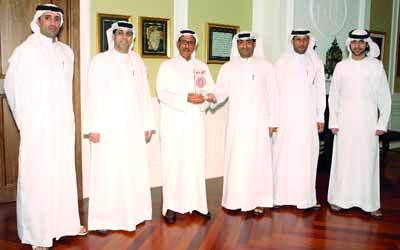 The Chairman of Al Habtoor Group, Khalaf Ahmed Al Habtoor, was selected as "person of the month" for January by the Arabic language daily Emarat Alyoum, which introduced the award at the start of 2012.
Habtoor was honoured at a reception held at Al Habtoor Group offices in Dubai on Wednesday.
Emarat Alyoum, a mass circulation tabloid Arabic language newspaper, cited his efforts in the "development of human communities" in the UAE and in "his relief efforts for societies affected with disasters around the world."
"Habtoor is also contributing to helping the orphans and improving their lives in addition to supporting interaction among religions and civilizations worldwide."
Habtoor was given the award at Wednesday's function, which was attended by Dhaen Shahin, Director General of Publishing at the Dubai Media Inc (DMI) and Editor-in-Chief of Albayan Arabic language daily, Sami Al Reyami, Emarat Alyoum Editor-in-Chief, Ali Shahdour, Albayan Managing Editor and other DMI officials and media representatives.
The Dubai-based Emarat Alyoum, one of the region's most popular Arabic language newspapers, launched that award to honour outstanding people for their role in the society, the first prize of its kind in the country.
An affiliate of DMI, one of the largest media establishments in the region, Emarat Alyoum said its editing board would pick the person at the end of each month.
Follow Emirates 24|7 on Google News.