Hamdan bin Mohammed attends COP28 Higher Committee meeting at Expo City Dubai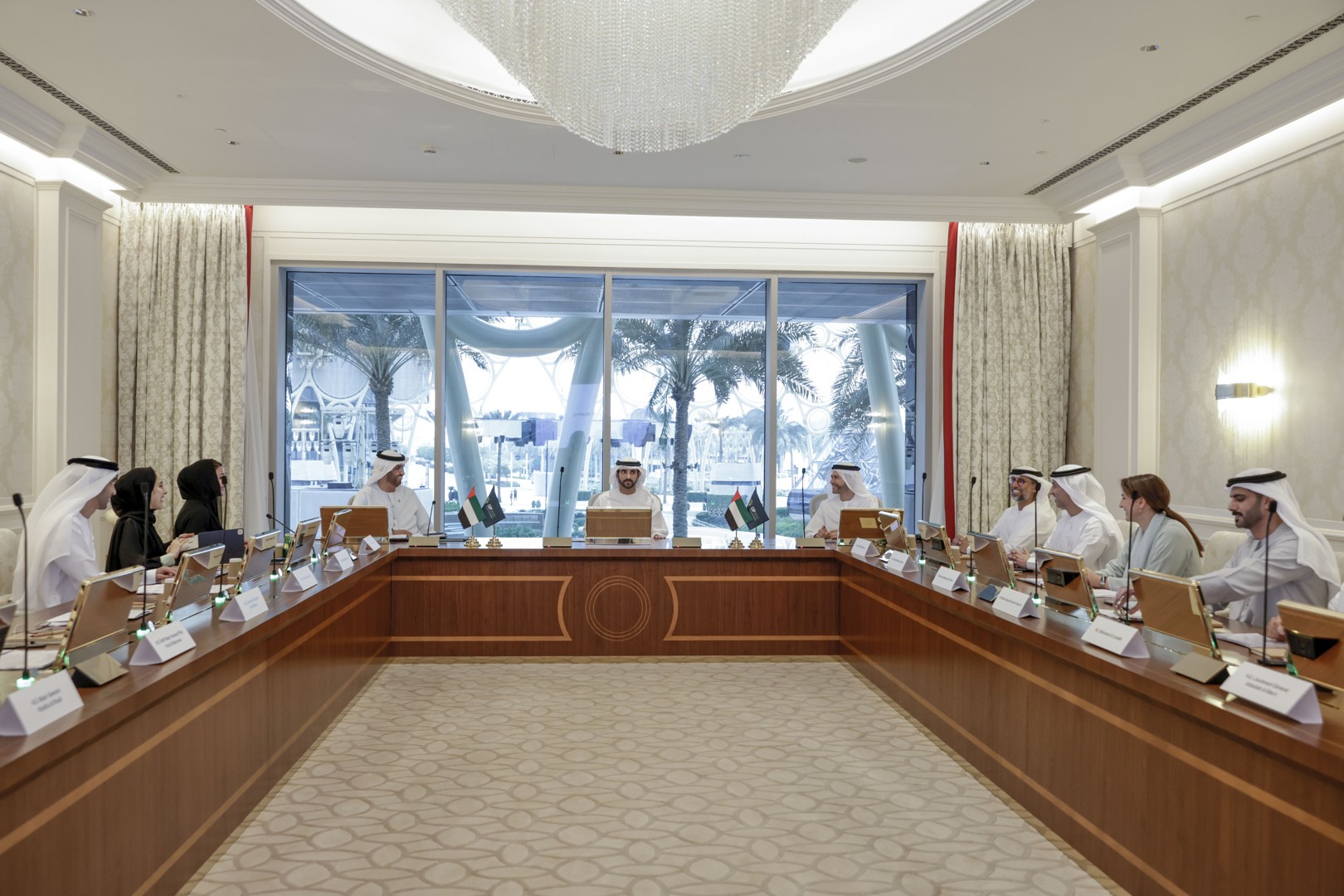 H.H. Sheikh Hamdan bin Mohammed bin Rashid Al Maktoum, Crown Prince of Dubai and Chairman of Dubai Executive Council, attended a meeting of the Higher Committee overseeing preparations for the 28th session of the Conference of the Parties to the UNFCCC (COP28), which will be held at Expo City Dubai from November 30th to December 12th, 2023. The meeting was held to discuss updates on the preparations and community engagement efforts for the climate conference.
Dr. Sultan bin Ahmed Al Jaber, Minister of Industry and Advanced Technology, COP28 President-Designate and Vice Chairman of the Higher Committee, provided Sheikh Hamdan with updates on the COP28 Presidency's global listening tour, which has been undertaken in the lead up to the climate conference. During the meeting, Sheikh Hamdan highlighted the importance of local and federal government entities working together as one team to ensure the success of COP28.
Sheikh Hamdan said that the UAE looks forward to hosting a dialogue on environmental issues at COP28 that will have an enduring impact on global sustainability and the future of humanity. He stated that the organisation of the event reflects the UAE's commitment to bringing together nations and institutions from across the world to generate solutions for critical international issues. Consistent with the UAE's success in hosting mega global events, COP28 promises to open new pathways to resolve global environmental and climate-related challenges, he added.
The meeting built on the discussions at the previous Higher Committee meeting, which was chaired by H.H. Sheikh Abdullah bin Zayed Al Nahyan, Minister of Foreign Affairs and International Cooperation and Chairman of the COP28 UAE Higher Committee.
Dr. Al Jaber said, "The COP28 Presidency is actively consulting with and listening to all stakeholders on the first leg of our listening tour, to connect the efforts of all stakeholders in co-creating concrete solutions across mitigation, adaptation, loss and damage and climate finance. This is crucial to COP28's vision for an open, transparent and inclusive process that builds on previous climate progress, enhances the buy-in of diverse stakeholders and advances groundbreaking outcomes, solutions and partnerships towards achieving the goals of the Paris Agreement."
Dr. Al Jaber highlighted that rallying global, regional and national efforts in a concerted drive towards meaningful climate action, and ensuring all segments of society, from businesses and non-government organisations to youth, women and civil society, have a constructive role to play in the lead-up to and at the climate summit, are key to COP28's success.
During the meeting, Shamma bin Suhail Faris Al Mazrui, Minister of Community Development and COP28 Youth Climate Champion, highlighted efforts undertaken to accelerate local and international youth participation, and prioritise the voices, needs and skills of young people on the global climate agenda.
Mariam bint Mohammed Almheiri, Minister of Climate Change and the Environment, affirmed the UAE's commitment to bold national climate action that aligns with COP28's vision for transformative progress and the UAE's 2023 theme 'Year of Sustainability'.
The meeting also included an in-depth discussion of all logistical preparations that will create a seamless experience for delegates and visitors, from maximising accessibility to creating opportunities for all groups to engage in discussion and activities.
The COP28 UAE Higher Committee comprises ministers and government officials who represent the collective efforts of the government, various industries and sectors, at all levels, to prepare for the COP28 UAE climate summit.
Members of the Higher Committee include Mohamed Hadi Al Hussaini, Minister of State for Financial Affairs; Reem bint Ibrahim Al Hashemy, Minister of State for International Cooperation; Suhail bin Mohammed Al Mazrouei, Minister of Energy and Infrastructure; Mariam bint Mohammed Almheiri, Minister of Climate Change and the Environment; Dr. Thani bin Ahmed Al Zeyoudi, Minister of State for Foreign Trade; Shamma bin Suhail Faris Al Mazrui, Minister of Community Development; Muhammad Abdullah Al Junaibi, Chairman of the Federal Authority for Protocols and Strategic Narratives; Lieutenant-General Abdullah Khalifa Al Marri, Commander-in-Chief of Dubai Police.
Members also include Lieutenant-General Talal Humaid Belhoul Al Falasi, Director-General of State Security Department at Dubai Police; Staff Major General Pilot Faris Khalaf Al Mazrouei, Commander-in-Chief of the Abu Dhabi Police; Mattar Mohammed Al Tayer, Director-General, Chairman of the Board of Executive Directors of the Roads and Transport Authority, Rashid Saeed Al Ameri, Under-Secretary of the Ministry of Presidential Court for Government Coordination Sector; Major General Khalifa Hareb Al Khaili, Under-Secretary of the Ministry of Interior; Helal Saeed Almarri, Director-General of Dubai's Department of Economy and Tourism, Saif Saeed Ghobash, Secretary-General of Abu Dhabi Executive Council, and Dr. Jamal Mohammed Al Hosani, representing the Supreme Council for National Security.
Follow Emirates 24|7 on Google News.