Hamdan bin Mohammed attends UAE SWAT Challenge 2023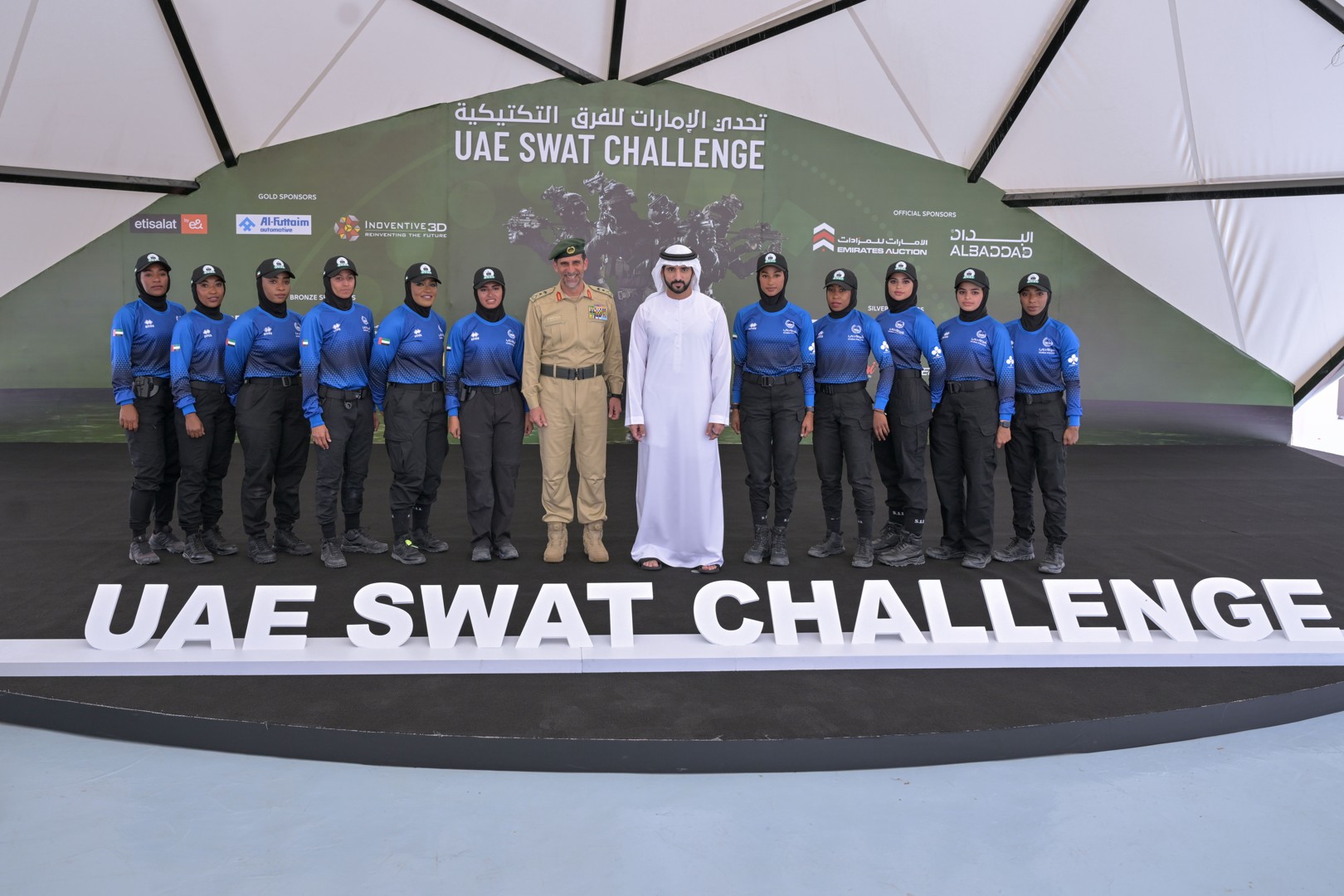 His Highness attends display of skills by Dubai Police's all-woman SWAT team

His Highness Sheikh Hamdan bin Mohammed bin Rashid Al Maktoum, Crown Prince of Dubai and Chairman of The Executive Council of Dubai, today attended the 4th edition of the UAE SWAT Challenge, being held at the Dubai Police training centre in Al Rowaiyah, from 20 – 24 February.

His Highness was briefed by His Excellency Lieutenant General Abdullah Khalifa Al Marri, Commander-in-Chief of Dubai Police, about the special task forces taking part in the event from across the world.
The teams participating in the Challenge will be competing in five tests - tactical, assault, officer rescues, tower events and obstacle courses. Al Marri said these challenges, which will assess the tactical acumen, mental focus and physical endurance of the teams, have been designed to promote the exchange of expertise and the development of SWAT capabilities. The UAE SWAT Challenge 2023 features 55 teams from all over the world.

His Highness also attended an event at the UAE SWAT Challenge 2023 in which Dubai Police's first all-woman SWAT team, known as the Dubai Police C team, displayed their skills.

The Commander-in-Chief of Dubai Police praised the support that His Highness Sheikh Hamdan bin Mohammed has extended to Dubai Police's special forces, which has enabled them to adopt global SWAT best practices. He noted that the all-woman SWAT team of Dubai Police is a unique addition to the organisation's special taskforces.

Members of the female SWAT team have received extensive specialised training in every aspect of SWAT missions, including tactical shooting, raids, snipers and endurance, which enabled them to gain the high level of skills needed to compete in local and international competitions, he said.

Al Marri further said Dubai Police is proud of its female personnel, who are ambitious and eager to master the skills needed to excel in specialised fields. He noted that their performance in the 6th Police Championship for Special Teams, organised by the Police Sports Federation and Dubai Police, was exceptional.

At the end of the visit, Sheikh Hamdan received a memento from the all-woman SWAT team, as a token of their appreciation for his support. He also posed for a commemorative photo with the heads of teams participating in the UAE SWAT Challenge 2023.


Follow Emirates 24|7 on Google News.