Handicapped for 20 years, Arab man starts walking after a three hour surgery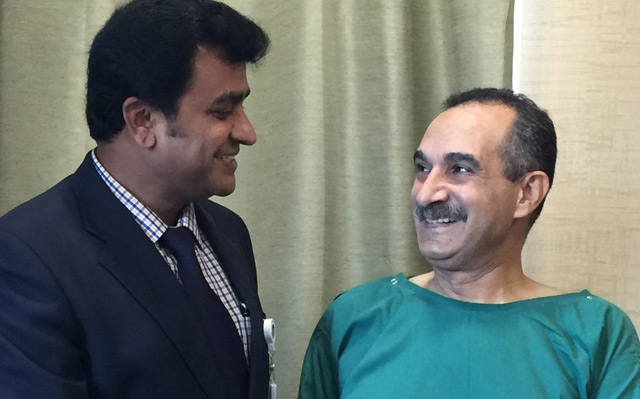 A 52-year old Egyptian man walked pain-free for the first time in 20 years after a leg injury that left him severely impaired.
Abdel Gawwad underwent a total knee replacement surgery for his severed left leg at Aster Hospital Mankhool and began walking with ease after two decades of relying on walking aids to get around.
Abdel Gawwad's case was complicated by cardiac palpitations, a history of prostate enlargement and urinary incontinence, and he was on blood thinning drugs for cardiac problems.
A multi-specialty team of Aster doctors in Orthopedics, Cardiology, Urology and Anaesthesia were involved in the surgery, led by Dr. Manjunatha G.S, Specialist Orthopedic Surgeon.
"Dr. Manjunatha provided an accurate treatment for my condition, but above all, he gave me the confidence and motivation to walk again. I can now walk and perform tasks on my own without any hassle. It feels like I have gone 20 years back in time,'' said an elated Abdel Gawwad.
For the past two decades, Abdel Gawwad led a severely handicapped life as his injury had made walking extremely difficult and painful, more so over the last five years.
He was referred to Dr. Manjunatha by a friend who had undergone a total hip replacement surgery performed by the doctor.
After thorough investigation, Abdel Gawwad was diagnosed with post-traumatic osteoarthritis - a condition caused due to ageing and injury.
Further investigations also revealed that his left leg was 2.5cm shorter than his right leg. Due to his existing heart and bladder conditions, it was also a high-risk case for surgery.
"We explained the risks to Abdel Gawwad as well as what he stood to gain, should the surgery be successful. I think after 20 years of pain and discomfort, which would only get worse with age, he was determined to give life another chance," said Dr. Manjunatha.
With expert assistance from the team of doctors and nurses at Aster Hospital, Abdel Gawwad's underlying cardiac and urology conditions were kept under check, prior to and during the surgery.
After a successful 3-hour total knee replacement surgery and with specialized protocols in pain management and physiotherapy, Abdel Gawwad began walking within five hours post the surgery.
"We did our best during the surgery but it was Abdel Gawwad's tenacity and motivation that sped up his recovery. Patients usually need to be taught through physiotherapy to perform routine activities like standing, sitting, getting in and out of bed, using the bathroom etc. after a joint replacement surgery. But Abdel Gawwad was extremely motivated and quickly learnt and performed all the exercises without any assistance. I am very glad that our team was able to give him the right treatment and empower him to lead a normal life again." said Dr. Manjunatha.
Despite the high degree of bone correction which entirely changes the patient's balance and gait or causes a lot of pain, and the soft tissue released, Abdel Gawwad managed fine without the knee braces that patients generally resort to after joint replacement surgery.
He walked out of the hospital on the sixth day after his surgery.
Mild bone bruises were noted and treated in follow up check-ups.
At three weeks post the surgery, the deformity was completely corrected.
Follow Emirates 24|7 on Google News.