Here's how to drive safely through floods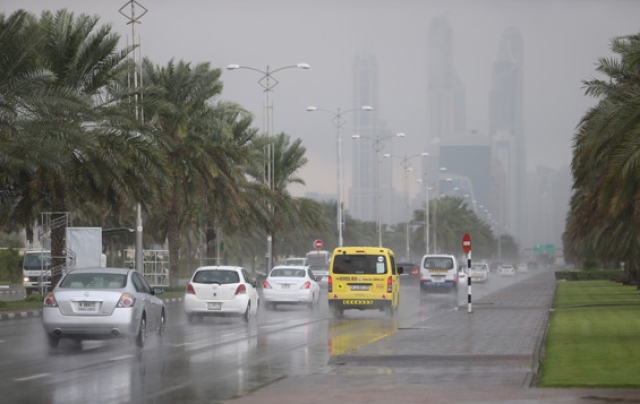 With heavy rain causing water-logging in parts of the UAE, and many motorists struggling to drive through water pools, we look at important steps that could keep the driver and car safe from damage.
There are many dangers associated with it, like the car engine sucking in water, which could demobilize the vehicle, or shorted-out electrics. And in rare cases, if the water current is strong, it could even move the car into deeper patches.
So, what can you do, to drive yourself to safety?
According to Andrew English at the Telegraph, the first move is to avoid it.
But, if you can't, you should gauge the depth of the water. Try to estimate there is not more than six inches of standing water or four inches of moving water to drive through. If it's possible, then you must park and watch other cars tackle the water-logged area to get a sense of how deep the water is.
Always slow down, or stop completely before you approach the flooded area.
Once you decide to go through, ensure you drive slowly and steadily. Driving fast can be tricky, as you could lose control and it could possibly lead to a damaged engine.
Check for road obstructions and hazards. Be sure to take roads that you know, so you don't hit something hidden by the water. Road experts tip that driving through the middle of the road is the safest and often the shallowest part.
It is best to tackle the water patch one car at a time. This will allow all motorists to drive to dry patches safely.
Always keep your engine revs up to avoid water from entering the car's exhaust pipe. If water manages to enter the car, it could severely damage the car.
Never stop the car in the middle of the flooded area. This could damage the car engine.
Once in the waters, avoid the temptation to make a quick exit, as going at speed can push water into the engine, and damage or stall it.
Once you have successfully waded through the water, drive slow and immediately check the brakes. Water can impact brakes, and leave them inefficient, so it is extremely important to check whether the brakes are in working condition.
And, driving your car to the garage for a complete check is crucial. Water can play havoc with a car, and could damage some parts. So it's important that you get the health of your car checked before driving them out again.
If your car shuts down while you are in the middle of the flood, you must never try to restart your car, as the damages are extreme. You must stay calm and call for help.
Follow Emirates 24|7 on Google News.