Honest Filipino returns lost Dh21,500 to Emirati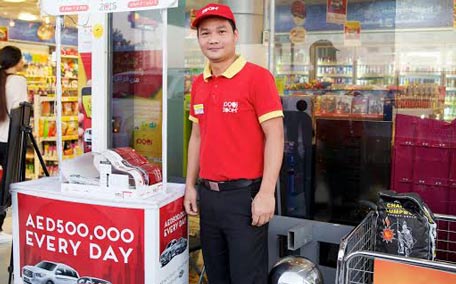 An honest Enoc staffer has returned a wallet with Dh21,520 in cash to its owner.

On January 17, Engelbert Ancajas, a 31-year old employee of the Enoc outlet on Al Wasl Road, found a wallet atop the Infiniti Mega Raffle box at the Infiniti booth outside the store.

Without a second thought, Engelbert handed over the wallet to the shift manager.

The wallet contained Dh21,520 in cash in addition to a few IDs and business cards.

In line with the standard procedures, the shift manager lodged the incident on the customer care hotline and called the number displayed on the business card.

When UAE national Bin Saif returned to the gas station, he was overjoyed to find his wallet and all its contents in place.

He said that he is a regular customer and earlier that morning, he had bought an Infiniti Mega Raffle ticket and forgot to pick up his wallet from the box.

He thanked Engelbert personally and also called the Enoc Area Manager to express his gratitude and appreciation for Engelbert's honesty.

"I didn't think twice about handing over the wallet to my supervisor. Money cannot buy you good reputation and I believe in the old saying that honesty is the best policy," said Engelbert, a former member of the Philippine Navy.
Follow Emirates 24|7 on Google News.