Honest Pakistani returns Dh50,000 found on Dubai ATM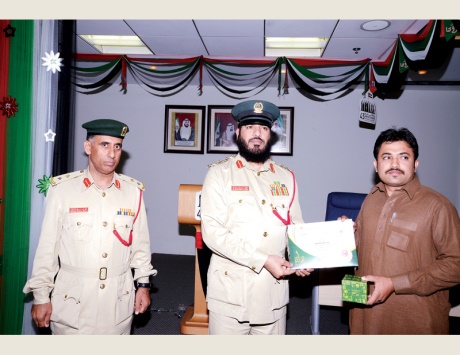 Dubai Police honoured Pakistani national Mohammed Alem on Sunday for his honesty and sincerity for returning a sum of money that amounted to more than his annual salary.

The honest man who earns Dh3,500 a month found Dh50,000 on top of an ATM machine in Dubai, but without a second thought, he took the amount straight to the nearest police station, in Muraqqabat.

The police also honoured Jean, a Filipina, for returning Dh4,300 found in an ATM in Deira City Centre.

Mohammed Alem works in a contracting firm, and found the package with money when he went to withdraw some cash from his personal account.

At a news conference to honour Alem and other honest Dubai residents, Colonel Dr Adel Mohammed Al Suwaidi, Director, Al Muraqqabat police station, said: "The police discovered that the amount of money belonged to a Sudanese businessman, who had gone to deposit a cash amount of Dh150,000 in the ATM, but forgot one of the packets on top of the ATM machine.

"When he realised that he was short of Dh50,000, the Sudanese gentleman thought he had been robbed and rushed to report it at the Muraqqabat Police Station. Since the bank branch was closed by then, we decided to wait until the next day to get security footage from the bank."

However, within a few hours, Alem arrived at the police station with the missing package. Police summoned the Sudanese owner and returned the money to him in the presence of the honest Pakistani. The Sudanese businessman rewarded Alem an undisclosed amount of money for his honesty.

Colonel Adel Al Suwaidi honoured Alem with the money and a certificate of appreciation in recognition for his honesty.

He noted that Alem had shown utmost honesty despite the fact that he earns just Dh3,500 per month, and supports a family of his wife and two children, in addition to his father and mother (all living in Pakistan), but he refused to take the money.

Alem said at the press conference that he didn't even think of keeping the money for himself because he can't feed his family with money that isn't his (haram).
Filipina returns Dh4,300 found in ATM

Dubai Police also honoured Jean, a Filipina, for her honesty for returning Dh4,300 that she found in an ATM in Deira City Centre on New Year's Eve.

These are the first two individuals to be honoured by Dubai Police in 2015. Muraqqabat Police Station honoured four individuals for their honesty last year, including two Indians, one Pakistani, and a Yemeni national.
Follow Emirates 24|7 on Google News.