Hoverboard Jam: Kids still riding on UAE roads, in malls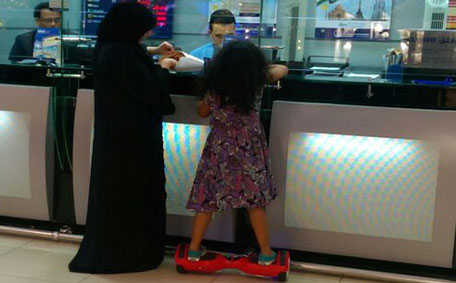 There's no disputing the fact that hoverboards are dangerous, both for the riders and onlookers. Dubai Police have issued warnings as regards their use on public roads, and has recommended confiscating them in such cases.

Malls in the UAE have already banned them.
Yet, you see many children, and adults, still blissfully riding them - inside shopping malls, building corridors, parking lots and even on the streets.
"These things are everywhere. I went to the hypermarket and was shocked to see this young girl riding the hoverboard as her mother walked beside her.

"The girl was dodging the crowd, and riding, almost knocking down an elderly person. It's so dangerous," says Sheena, a resident of Al Nahda.
More residents have reported children flaunting their new gizmo.

"Inside our community, you always see kids riding them on the road. They are so fast. Some even come up right in front of you, and quickly swerve away. It's scary," says Neelkant, a resident of the Springs.
"I saw a kid buy groceries and balance it all while riding those mobile skateboards.
"It's a miracle he didn't fall or run someone over," said Rahel, a resident of Discovery Gardens.
Citing a fire hazard, many airlines have also banned the transport of these scooters on air.
Emirates 24|7 had earlier reported about how a family of five were shocked when the overboard they had left to charge suddenly exploded inside their house.

Thankfully, no one was hurt in the incident.

"Kids love hoverboards, but no one, not even the seller, told us about how unsafe these are. Many parents are unaware of this, and I want to use my experience to spread awareness," said the parent.
Experts warn that cheaper hoverboards of inferior quality may be using substandard lithium-ion batteries, leading some of them to explode when overcharged, or as a result of an accidental fall.

Also read: 8-year-old boy dies riding 'hoverboard' on UAE road; Dubai Police warning

Follow Emirates 24|7 on Google News.