How aircraft engines are inspected to keep passengers safe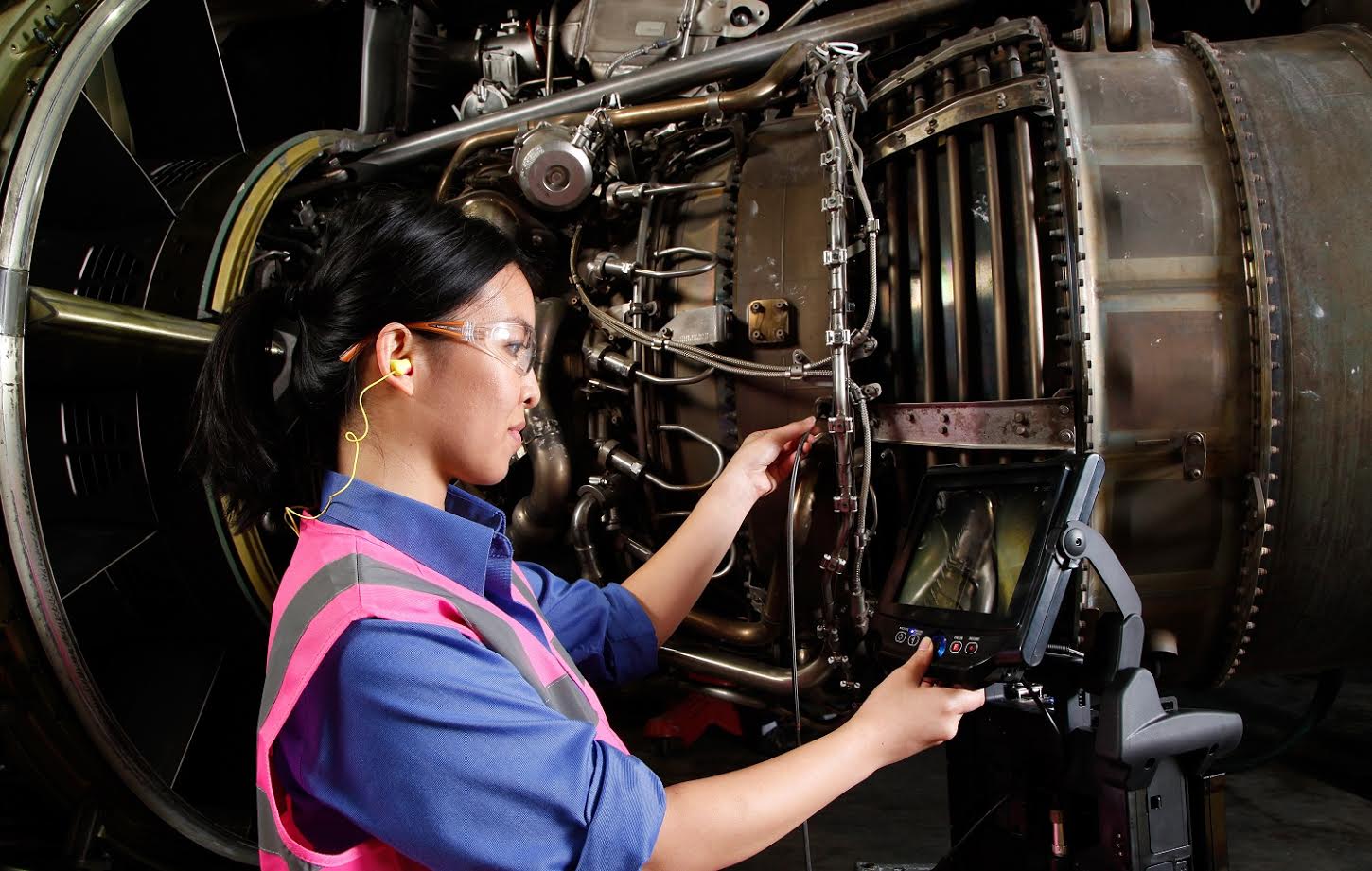 Have you ever wondered sitting in the window seat looking out to the engine of the aircraft, if it is okay and that it will reach you to your destination safely?
Thousands of commercial aircraft fly passengers and goods to tens of thousands of destinations throughout the world every day.
For the commercial aircraft carrying passengers and cargo in very harsh environments, the inspection and maintenance for safe operation are crucial.
Periodic inspections of aircraft engines are mandatory by both manufacturers and regulatory authorities.
How do you inspect inside the engine?
"An aircraft engine is a very complex machine. But manufacturers have provided certain areas within the engine that have access ports to facilitate visual inspection with endoscopes," says Maurice Faber, Regional Managing Director of Olympus Corporation.
Olympus is a world leader in aviation endoscopes and works closely with industry leaders such as Boeing and Airbus among others. Similar to endoscopy for people, these high technology thin flexible tubes are inserted into the access port of an engine.
The tube usually has a couple of optical cables, each of which may have up 50,000 optical fibers.
The cables carry light and cameras to see inside the engines.
"However, because of the complexity of the engine, there still are various difficulties an inspector may face when attempting to conduct an engine inspection precisely and in a timely manner," Faber points out.
Three key challenges
Commercial jets are equipped with turbofan engines, which vary in size from small turbines for regional jets to large turbines for larger, inter-continental airliners.
Furthermore, there are many different parts to be inspected within each engine, such as turbine blades, compressor blades and the combustion chamber. It is important when conducting a smooth and accurate inspection, to choose the optimal endoscope and related accessories by engine type and engine part.
"At Olympus, we use a single IPLEX videoscope that can cover various demands for aircraft engine inspections by just changing the optical adaptors," Faber said.
Another challenge is the laborious operation to rotate the engine shaft.
Operators need to inspect hundreds of blades, which are located at several turbine/compressor stages and mounted on the shaft.
To conduct the inspection, collaborative work is required where one operator manually rotates the shaft while another inspects the blade condition.
This work not only requires an additional operator for the shaft rotation, but also tends to cause insufficient inspection of the turbine.
The solution is to have an engine specific Turning Tools that can automatically rotate the shaft with high-pressure compressor/turbine blades at a preferred speed, enabling an inspector too accurately and thoroughly conduct both the shaft rotating and blade inspection operations without the need for a second person.
The third challenge is the time-consuming inspection analysis and report generation
Throughout the inspection, recording a large number of blade images is often the case for inspection analysis and report generation, but within this environment, images are very similar to each other and it is sometimes impossible to identify blade types during review.
Thus, many operators experience difficulty and frustration when attempting to find and sort intended images from a large volume of very similar images.
Olympus uses its Inspection Assist Software that enables an inspector to record images while categorizing them by inspected stage and putting diagnosis onto the images by way of standardized comment.
After the inspection, the inspector/reporter can efficiently analyze the recorded images and immediately create a report, just by selecting desired images with one-click operation.
The Japanese manufacturer of high-end optics and precision electronics is establishing its Middle East and Africa (MEA) headquarters to Dubai in the United Arab Emirates.
The facility will incorporate a state of the art service and training centre for both support and knowledge transfer. From Dubai, the headquarters will cover 72 countries from across the South Africa to the Levant to Turkey to Gulf Arab countries and Iran.
The move comes as the three major regional airlines – Emirates, Etihad and Qatar Airways – are poised to expand their fleet by almost 650 new planes.
"If you include Turkish and Iran Air, the order book comes to a massive 1,058 passenger aircraft," said Faber.
"With the market growing, our local presence here will help support our customers with stronger support on a variety of fronts including faster response times for service and product backup," said Faber.
Follow Emirates 24|7 on Google News.